Kansas woman joins psychology department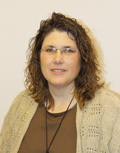 Jennifer Kay Allen
A horse woman from Kansas is the new psychology professor on campus. Jennifer Kay Allen said she grew up on a farm near a small town in western Kansas called Scott City where she bred and raised quarter horses for a number of years.
Her background in education includes a doctorate in psychology from Capella University in Minneapolis, Minn., which she completed in February after working on it for three and a half years.
Allen has been an adjunct professor online and at Clovis Community College in New Mexico.
She said she discovered she enjoyed teaching and working with students more than providing psychotherapy and counseling, which she had been doing in eastern New Mexico for 12 years.
Having joined the OCCC faculty this fall, Allen teaches Introduction to Psychology and Social Psychology, both of which offer a variety of ways to learn more about this field.
These classes can be fascinating for students because they learn the cognitive process of the mind and how everything is managed, she said.
In Social Psychology for example, Allen said, she might assign a social experience for students to do a "random act of kindness."
Or she might ask them to do something abnormal, such as laughing out loud in the hallway or standing really close to someone in the elevator.
Whatever the case may be, it will definitely cause people look at you differently, Allen said.
Allen asks her students to write a report based on the observation from the experiment.
"I am incredibly excited to be here," Allen said.
For those students who might want a one-to-one interaction with their professors, Allen said she might be a good fit.
"I enjoy working with students directly," she said.
Early in her academic career, Allen said, she became interested in fine arts as well as psychology. Allen loves oil paintings, a passion she believes she inherited from her grandmother who was a painter. One of her biggest inspirations is the French painter, Claude Monet. Allen has actually visited his home in France which she described as "very cool."
For more information, contact Allen at Jennifer.k.allen@occc.edu or visit her office in room 1H13-H in the Social Science Division.
To contact Nima Tajbakhsh,
email onlineeditor@occc.edu