Journalism's future is in good hands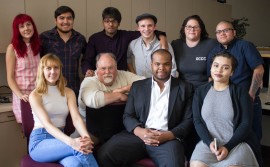 Savannah fights injustice.
Chris is loud and funny and, when he wants to, he can bring tears to your eyes as he speaks about what it's like to be a young black man in Oklahoma.
Natalie can talk to anyone, anywhere at any time.
Rahul is skilled well beyond his years.
Brandon embraces words like a hungry man eats a cheeseburger.
Cici writes stories that will break your heart.
For these six students, journalism isn't just about a textbook or hanging out in class. Real journalism, they have discovered, involves tears and sweat and people and frustration. It's long hours, stale coffee, unreturned telephone calls and that cranky, opinionated advisor who changed the lede.
A real journalist, they have learned, is always going to have a bias – but for these six, the goal is to be fair. And yes, even real journalists make mistakes.
For several months now, I've watched these six students struggle and work and push themselves to publish OCCC's official newspaper, The Pioneer. They argue about stories, they work to find just the right word and they take photograph after photograph.
Staff meetings often resemble a circus.
The discussions range and wonder and they get loud and the language, at times, is not for the timid.
But in the end, the decisions get made.
I'm their coach. I try to stay out of the way. Oh, sure, I read every story – several times —  but the decisions about what to cover and what to run and where that story goes,  and who is going to write what, well that rests with them.
They make the calls. They get the praise and occasionally, the complaint.
But each day they learn and they improve.
Each day they try harder.
They have thick skin. They are used to being called fake, or an enemy of the state. They have more than their share of critics – at home and far away. They know what it means to make a reader mad. They know what it means to be threatened
And yet, they keep trying.
They care about people and the world around them. And even though at times, their passion gets the best of them. They suit up, even when they drained and exhausted and frustrated.
They are the journalists of our future.
And we are all better for it.