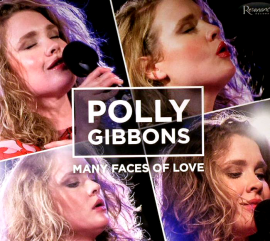 Up-and-coming London singer Polly Gibbons will bring her earnest, sumptuous and natural jazz sensibility to a performance on campus at 7:30 p.m. Thursday, Oct. 15, in OCCC Visual and Performing Arts Center theater.
"I was really taken with her charisma and, of course, her talent," said Lemuel Bardeguez, Acting Vice President for Community Development.
Bardeguez said he discovered the soulful singer at a conference last year where Gibbons had a brief showcase.
"[Gibbons] is the kind of singer you close your eyes and you hear her sing," Bardeguez said.
On Wednesday, Oct. 14, Gibbons will conduct a free lecture-demonstration from 11 a.m. to 1 p.m at the VPAC theater stage.
The master class is open to everyone, said Linda Bosteels, Performing Arts Series coordinator.
"She (Gibbons) will talk about what she has done to get this far, give tips, and also (explain) how to tell a story through a song," Bosteels said.
Bardeguez said the singer also will coach students on how to find the road to becoming a professional musician.
Gibbons will talk on being a self-represented artist and how to get a record deal.
Gibbons' performance will include original music as well as jazz and blues cabaret standards, Bosteels said.
"She is a jazz singer, so she will be singing all types of blues, jazz and gospel. You would have to show up to find out," she said.
Gibbons' album "Many Faces of Love" will be available for purchase at Thursday's performance.
"Even though it's fall break, we want students to come out," Bardeguez said.
Students are able to receive two free tickets to see Gibbons by showing their student ID at the box office.
General admission tickets are available at http://tickets.occc.edu for $15, by calling 405-682-7579, or by visiting the box office located in the atrium of the VPAC Theater in person.