Jazz ensemble ready to lay down some grooves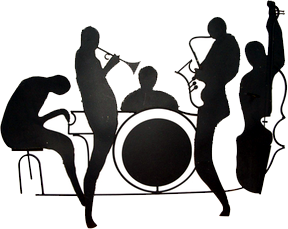 OCCC's jazz ensemble band is preparing for its first free formal show at the Bruce Owen Theater, said Ensemble Instructor Mark Giammario.
He said the ensemble will play at 7:30 p.m. Tuesday, Oct. 6, in the Bruce Owen Theater, and again during a variety event that also will include a theatrical dance class and comedians Tuesday, Dec. 1. Admission is free.
The ensemble most recently performed at Arts Festival Oklahoma, Giammario said.
The jazz ensemble is a class that OCCC has every semester for musicians who are interested in learning about how to play jazz music, he said.
"We have different students each semester. Some have different experience levels than others.
"For example, our bassist has been here for two years. He doesn't even get a credit for the class anymore."
"While music experience is needed to be in the class, being a jazz player is not," Giammario said. "Some of the students in the class are not even majoring in music.
"Our students come from playing different types of music, like rock for example. Rock and jazz have a lot of things in common so that helps. Everyone is different in the class when it comes to music."
Giammario's ensemble, for which he plays drums, has a diverse group of instruments.
"We have drums, electric bass, piano, two guitars and trombone."
Members are Guitarist Jared Bross, Guitarist Richard Campbell, Pianist Collin Crull, Drummer Mark Giammario, Bassist Zach Lebo and Trombonist Tristan Ryker.
Giammario said one thing that makes the class interesting are the changes. He said some students leave while others join, giving way to a constant flow of new ideas.
"Every semester we don't know what we're going to get [when it comes to the students in the class] so the professor has to do these arrangements for different instruments."
This semester, he said, the ensemble is working on more international music.
"We have influences from South America as well as Africa," he said.
"Everyone should definitely come out. It's only going to be an hour long and there's going to be some great music there."
For more information about the jazz ensemble or any of their upcoming concerts, email Giammario at mark.d.giammario@occc.edu.