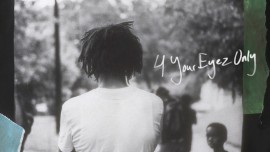 [1]There's no denying the talent that J. Cole has as a rapper and lyricist, but I find myself both loving and loathing the new record – "4 Your Eyez Only."
A record with soaring highs and confusing lows is nothing new. But after listening through the tracklist again and again, it just feels inconsistent.
Cole touches on a handful of subjects within the album. He starts with painting a grim picture in the trap flavored "Immortal," talking about growing up, his culture, and death being all around him. It's powerful imagery and writing that I wish carried over to the next tracks.
Uninspired verses at the start of "Deja Vu" really leave a weird taste on the track. Swooning over a girl at the club and weighing all your options isn't really breaking new ground.
The send off in the following track "Ville Mentality," even with good production and pretty Jazz instrumentation accompaniment, doesn't really drive the point of the song home of being surrounded by shallow relationships and just pushing people and problems away. It feels like two songs in three minutes.
Then we arrive at the gorgeous highs of the album. "She's Mine Pt. 1" gives J. Cole room to breathe.
It delivers an intimate run-through of his train of thought when falling in love for the first time. The piano, the strings, and his low-key delivery really bring the tune down to earth.
Next we have "Change," an upbeat venture into optimism where J. Cole finds the flaws within cautious action over self-improvement. Evolving and learning from what's around and behind us is a straightforward point to drive home, but Cole raps his way to understanding and reflection. Another high on the record.
"Neighbors" deals with social change and perspective. J. Cole sees the prejudices that exist when moving away and immersing himself in the college crowd. The verse "Black in white man territory" sums up the gist of the song pretty well. A track with solid bass and humble high hats make the rhymes stand out and have more presence, which sadly segways into a weak point in the album.
"Foldin Clothes" is a weird addition to the album. The songwriting makes it clear that this was meant to be a fun, bouncy play on relationship goals and quirks, but it really does it with no direction or message within the framing of the album itself. Sure, anyone can try and make folding clothes fun, and not every song has to provide a lesson or be heard to walk in someone else's shoes, but there are different ways to go about it.
Even with the hiccup, beauty comes back with the sister track "She's Mine Pt. 2." It paints a slightly different love story, as J. Cole starts noticing the change he sees in new life. The life of someone that he feels obligated to care for and embrace. Lovely keystrokes, strings, and harmonies filter this paternal love story in the prettiest way. The perspective of the story is put into context with the last track.
4 Your Eyes Only puts most of the album into a narrative that I wished worked with every song. I see it working as the epilogue of where this paternal love stems from in the previous track. Through a Jazzy backdrop, we listen to J. Cole talk about who "Nina" is and the conversation to her directly. He explains his story, the fate of her father, and the bright future he sees for her.
It's a beautiful story, one of love and true convictions, that for some reason only reared its head during the last few tracks. Listening to the album again with this new message and narrative, only helped solidify the highlights and made the writing on the weaker tracks stick out.
This album is definitely worth your time if you're a fan of Jazz-rap or hiphop in general.
J. Cole has a skill and perspective few people share, and with the direction this new project took, it'll be exciting to listen to what his next steps will be.