J.C. High Eagle to share American Indian stories, tunes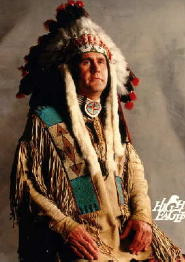 Osage and Cherokee composer and author J.C. High Eagle will play the American Indian flute and drum at a Brownbag lecture from 12:30 to 1:30 p.m., Thursday, Oct. 22 in the Al Snipes Boardroom. He said he has written more than 44 stories and will share a few of those stories as well. 
High Eagle said the nightly news is what prompts him to write stories and compose tunes. He said no matter the news program, he always hears about people hurting or even killing others.
"There's a lot of missing values in society," High Eagle said. "There's a lack of respect for people and the earth and animals. These stories are the way the American Indians taught young people, kind of like teaching stories."
Storytelling isn't the only way High Eagle conveys emotions, thoughts and values. He said each tune he writes has a background to it, an idea it represents.
"Each song carries a story with it. It's kind of interesting," he said. "Each of my tunes on the American Indian flute has some kind of a story that prompted it or made me want to compose it."
High Eagle said people can't hear these stories anywhere else. He said it is time they found their way back into the community.
"There will be teaching principles and lessons, but I've also got some personal experience stories to share," he said.
To contact High Eagle, visit www.jchigheagle.com. For more information about the American Indian Stories lecture, contact Student Life at studentlife@occc.edu or call 405-682-7523.