Intramural sports gets new website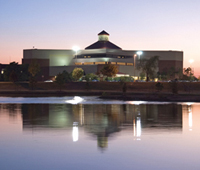 An exciting new chapter for Intramural Sports is about to come of age at OCCC.
"We are going to introduce a new intramural registration site, which is more of a membership management site," said Eric Watson, recreation and fitness specialist.
The new website is called Imleagues and is everything wrapped up in one.
It has game schedules and team information — basically all the descriptions and announcements involved with intramural sports, Watson said.
He said he believes the site will make intramural sports more efficient.
Students can now register for Intramural sports online at www.imleagues.com/Schools/OCCC/Registration.
After registering, students will be able to create a player card, and list personal attributes, such as stats, awards, photos, and whether they are right- or left-handed, Watson said.
He said the player card will act as a homepage with information about participants, and act like a Facebook page with the feature to invite other players to be able to access your page or join your team.
Students can join as a free agent, create a team, or join an already existing team, Watson said.
Teams can also see free agents and pick them up.
Watson said there is a minimum and maximum number of players on a team, in order for a team to be created.
Teams are graded on sportsmanship, Watson said.
In order to qualify for the playoffs, all teams must have good sportsmanship grades, or they will not be able to compete.
Watson said he wants all who participate to understand these activities are free.
He said he wants to create a good atmosphere for everyone.
With Imleagues, a team's sportsmanship grade is immediately posted and updated if necessary, he said.
In the past, Watson said, he would have to keep tabs on countless amounts of paperwork, and anytime schedules would need to be adjusted, he would have to print off copies and repost them all over campus in order to keep the public informed.
Now, participants will be immediately notified of any changes or updates, Watson said.
"We are heading in the direction of going green here at the college.
Now we can exclude all the paper-related materials we would do with schedules, team schedules, brackets, and all the other headaches.
"Many of the major universities around the nation are changing over to intramural leagues, and it is completely free because the people behind it are sponsored by Gatorade and ESPN," Watson said.