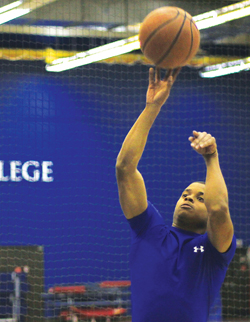 Yasmin Shirali/Pioneer
Physical therapy major, Lamonte Harris, 20, starts off the semester right by shooting hoops at OCCC's basketball courts. The basketball courts are located in the Wellness Center and are open Monday – Friday from 6:00am to 8:30pm and Saturdays from 9:00am to 4:00pm.
5-on-5 basketball for both men and women will be among the intramural sports on tap this semester.
OCCC students can look forward to a number of intramural sports to either participate in or cheer on from the sidelines.
For all intramural sports, students can sign up as an individual or as a team, according to the intramural student handbook.
The times and dates for all sporting activities are not yet available, when they are the Pioneer will list the dates and times.
There also will be a Basketball Hot Shots Challenge available for students who are good at shooting the basketball.
Students will be able to play CoRec Softball and CoRec Badminton.
Rita Manning, Recreation and Fitness Assistant said, "CoRec means men and women can play on the same team."
Badminton has been offered at OCCC in the past, and teams will play doubles.
Tracey Powell, Management Information Systems major, said he likes to play Badminton. "Badminton is harder than it looks," Powell said
Baily Sneed, first-year student said softball is her sport.
"We won the state title at Blanchard my senior year," Sneed said.
"I can't wait to play some more softball."
All interested students can register at the Wellness Center or Recreation and Fitness office, located in room 1C6 in the Social Sciences Center.
The Social Sciences Center is located on the southwest corner of the Main Building on the first floor.
If students have any questions about intramural sports they can reach the Wellness Center at 405-682-1611, ext. 7310.
To participate in spring intramural events, you must be a current OCCC student, according to the intramural Student Handbook.
Students also can contact Eric Watson, Sports and Recreation Specialist, at 682-1611, ext. 7786, or ewatson@occc.edu.
In order for students to be eligible to participate in Intramural Sports they must be enrolled in a minimum of six hours at OCCC and have a current OCCC student ID, according to the Intramural Handbook.
For more information about all these sports opportunities, go online at www.occc.edu. Go to the Labs/Centers tab and click on Wellness Center.
All the information regarding rules, policies, equipment, and all the ins and outs involved with intramural sports can be found in the Intramural Handbook on the OCCC website on the Wellness Center page.