Intramural Flag Football under way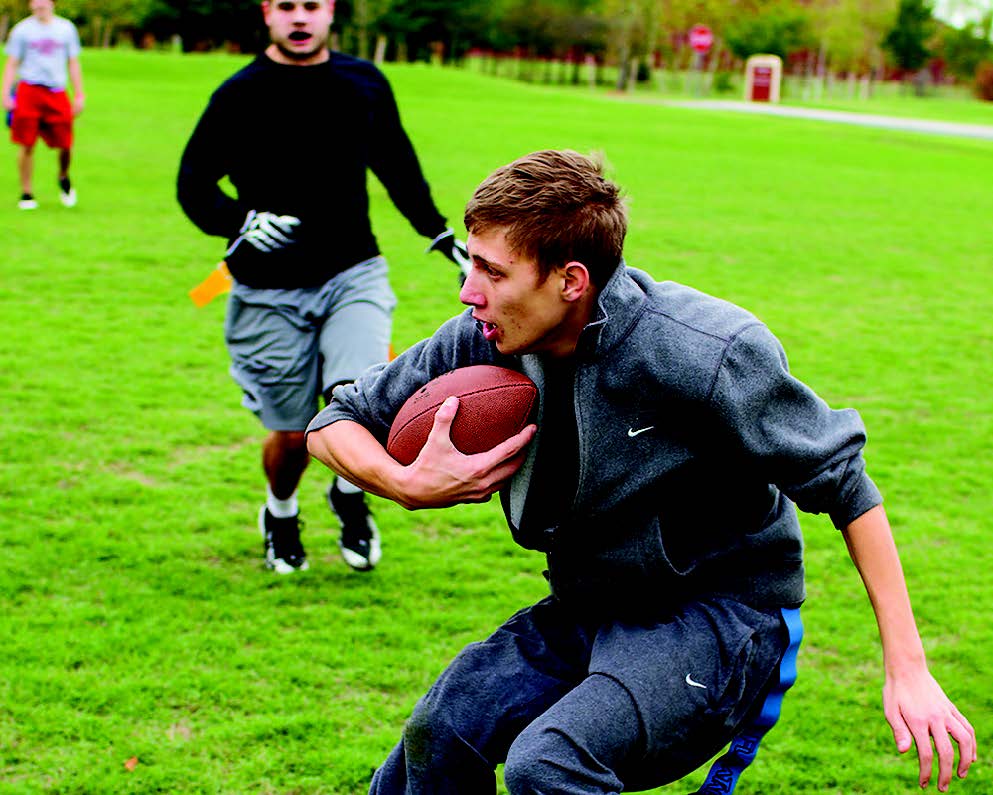 OCCC Intramural Flag Football was full of dominating performance that reflected the score. Team Nike defeated the OCCC Recreation and Fitness Staff 46-18 and the Legends pulled away from the Yard Dogs 41- 18.
The OCCC Intramural Flag Football season kicked off on Oct. 5 and was full of blowouts. Team Nike had everything clicking on all cylinders as they displayed an impressive aerial assualt on the OCCC Recreational and Fitness Staff.
As a result of the Thirsty Camels not showing up for the 1 p.m. game, the OCCC recreation and fitness staff had to fill in and their lack of chemistry showed on the field.
The stars of the game were the quarterback for Team Nike Jimmy McDay and receiver/cornerback Dalton Newsome.
McDay walked onto the field confident his team could get it done.
"I think my team is the best," McDay said.
McDay seemed to hit all of his targets on short, medium and long routes without turning the ball over.
"I will take only two incompletions and zero picks any day," McDay said.
Newsome was a reliable target and was stout on defense with two interceptions.
The Legends, formally know as "That Team Over There," have played together for a while now and showed it while defeating the Yard Dogs 41- 18.
"Most of us have played together since junior high and we are all good friends, so we might go out to the park and throw it around for fun," Legends Receiver Benjamin Dunn said.
The Yard Dogs tried to put up a fight but could not get their passing game in sync.
Yard Dogs receiver Antoine Newson tried to get the offense going but was frustrated with the lack of a consistent quarterback for him to connect with.
"We just need to stop switching quarterbacks," Newson said.
Registration for the league reamains open until Oct. 26. Anyone who wishes to play must register on imleagues. com.
For more information on the OCCC Intramural Flag Football league or any other Recreational and Fitness activity, contact the Wellness Center desk at 405-682-1611, ext. 7310.
To contact Brandon Willis, email sportswriter@occc.edu.