Intoxication, car-bike collision, suspicious man reported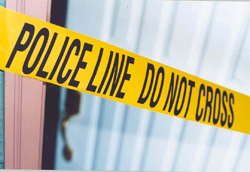 Recent crime reports include an intoxicated man on campus, vandalism, an auto accident and suspicious activity.
An intoxicated man was reported by Vice President of Academic Affairs office employees at approximately 11:55 a.m. July 16.
When OCCC police officers asked for identification, the man, whose name was redacted from the report, provided them with a Texas driver's license.
The report shows after performing field sobriety and balance tests, Officer David Madden believed the man to be under the influence.
According to the report, Madden smelled alcohol on the man's breath who explained that he had four or five drinks the previous night.
After Madden determined the man posed no threat and had no warrants, he was escorted to the Metro Transit bus.
Additional information can be found on a supplemental report that was not provided.
At approximately 10:20 p.m. on July 16, Officer Patrick Martino saw two males, age 15 and 16, near a light pole on campus. After shattering the glass on the light pole, the suspects ran toward houses along SW 82nd Street.
The suspects were caught and placed in investigation detention. After being searched, a slingshot was found on one of the youths.
According to the police report, one of the minors admitted to shooting out the glass. One was released to his father at the scene. The other suspect was photographed, issued a trespass notice and released to his father.
The case is still active. Additional information can be found in a supplemental report that was not provided.
Officer Ronald Ventresca was called to an auto accident off campus at SW 65th and Drexel in Oklahoma City involving an OCCC vehicle, and a bicyclist at approximately 4:09 p.m. July 24.
Driver of the van, Andre Hafner, 23, part-time OCCC employee, said he was driving southbound on SW 65th when he saw John Galbraith, 47, riding a bicycle.
According to the report, Hafner braked and swerved to the left, but could not avoid hitting the bicycle to his right. Hafner said he failed to stop at the stop sign because it was obscured by tree branches and it was too late to stop.
Galbraith said he stopped for the stop sign. A witness to the collision said neither stopped at the stop sign. Galbraith was transported to an area hospital. No further action was taken.
Students Melissa Lavallee, 34, and Regan Wickmire-Sapp, 27, reported they were studying with a group in front of the SEM Center at approximately 9:41 a.m. July 24, when a man approached and laid a tarot card on their table.
The man walked away, then returned, asking one of them to draw a card. When the person refused, the man became agitated and threatened the people in the group.
Officer Nelson Gordon was able to find the subject, issue a trespass notice, and escort him off campus. Additional information is available in a supplemental report not provided.
Most names were redacted on the report under the direction of Marketing and Public Relations Director Cordell Jordan who said names are redacted "according to OCCCPD Standard Operating Procedures involving information released and information withheld." To obtain a copy of the procedure, email cjordan@occc.edu.
To contact campus police, call 405-682-1611, ext. 7747.
For an emergency, use one of the call boxes located inside and outside on campus or call 405-682-7872.