International students share view of Oklahoma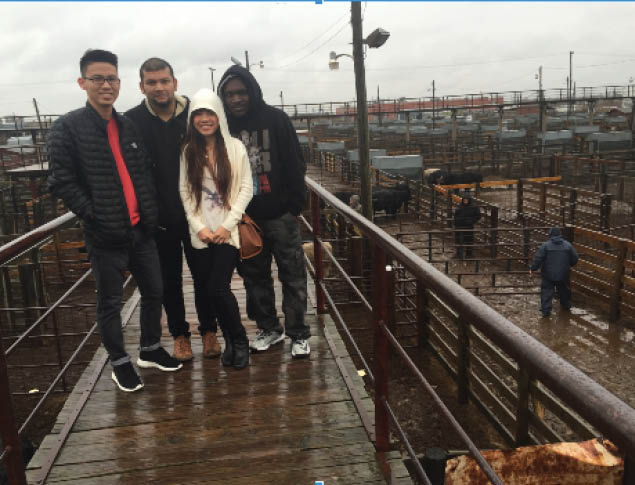 International students said they are enjoying their time spent in Oklahoma, including their time at the Oklahoma City Stockyards and the Cowboy Hall of Fame and Western Heritage Center. They took a trip to these locations earlier in the semester.
The ESL students of OCCC have learned  about Oklahoma's culture in Professor Abra Figueroa's class for students transitioning into regular college classes after studying English as a Second Language.
Ben Aichate Soumahoro, from Ivory Coast in Africa, has lived here eight months.
"I have learned that Oklahoma is very quiet and a good place to study," she said. "There are not a lot of distractions."
Oklahoma and Ivory Coast are very different from each other.
She explained how her hometown is comparable to New York, always busy, and very populated.
Another difference is the weather, she said.
"We do not have winter where I live," Soumahoro said."It is always summer, so here it has been very different for me, weather-wise.
"I have really enjoyed my time here in Oklahoma, because I have got to meet many different people from other countries" Soumahoro noted. "The people in Oklahoma are very kind and I feel comfortable here."
She is glad she came to OCCC for school.
Other international students expressed similar thoughts.
Sara Thalba is from Yemen, a country in the Middle East. She has lived in Oklahoma for nine months now.
"I chose to study in Oklahoma because there are less crimes here," Thalba said.
"The big difference between Oklahoma and Yemen is the weather," she said. "One day it is like winter and the next it is hot in Oklahoma.
"In my country it is always warm, I do not have two sets of clothes for winter and summer back at home," she asserted.
She explained that the people in Oklahoma and in Yemen are very similar, both have very kind people, they help each other out, and are hard workers. Thalba said. "Oklahoma City is a very calm, and nice city."
Min Kim, from South Korea in east Asia, is majoring in nursing at OCCC.
She explained how the education system is different here, because students have the freedom to choose what major they want.
"In South Korea you do not get the choice of what you want to major in," she said.
"It was kind of easy coming here and adapting to Oklahoma, but the English was hard to learn," Kim said. At home  she lived in Seoul, the capital of her country. Things there are very fast paced and busy.
"In Oklahoma it is very slow paced," Kim said.
Kim also explained how Oklahomans are welcoming.
"The people here are very friendly and are always asking 'Where are you from?' 'Nice to meet you.'" Kim said.
She really liked learning about Oklahoma's cowboy history, she said.
Min Kim's sister, Sae Kim, also is majoring in nursing.
Even though she has family living here, this is Sae Kim's first time coming to Oklahoma.
"My aunt lives in Moore, so that is why I chose to come to Oklahoma for school," she said.
Sae Kim likes Oklahoma for many of reasons, many that have affected her in a positive way.
"The difference between Oklahoma and my country is, my country is very busy and everyone just works then goes home," she said.
"The faces back at home are very serious and the faces here in Oklahoma are very smiley and relaxed," Sae Kim said. "Everyone is very helpful here."
Oklahoma has a specific trait that almost every international student commented on and Sae Kim noticed it also.
"Even if an Oklahoma person has never seen you before, or doesn't know you, they are still very nice and kind to you," Sae Kim said.
Several students said their experience at the stockyards was not as good as the Cowboy Hall of Fame, because they did not like how the cows were getting treated by the stock handlers.
The students enjoyed learning Oklahoma history and cowboy culture at the Cowboy Hall of Fame.
Student Trang Le is from Vietnam but has lived here seven to eight years.
She is going to college but is undecided about her major.
Le is currently working at Newcastle Casino.
She handles money all the time, which is one way she sees Oklahoma and the U.S.
"The people in Vietnam are different, they have a lot of farmers" she said. "Vietnam is a poor country, unlike the U.S.
"You can earn a lot of money in the U.S.," she said.
Classmate Yen Pham is from Vietnam also. She is majoring in nursing, and has lived in Oklahoma for almost eight months.
"Something that I have learned about Oklahoma is, the culture, the people here in Oklahoma are friendlier than other people in other states," she said.
"Since I have been in Oklahoma, I have noticed my English has developed really well with the teacher's help," Pham said.
She can understand what people say better, and answer questions more fluently.
"I enjoyed learning about Oklahoma's cowboys and their past," Pham said.
"I am enjoying Oklahoma a lot, even though the weather can get kind of crazy," she said.
Tu Tran, also from Vietnam, is majoring in business. She has lived here for one year and three months.
Coming to Oklahoma at first was very hard for her, but as time went on it got easier.
"Back at home I drive a motorcycle because it is so busy, but here I drive a car," Tran said. "It has been very hard for me to get used to driving."
Tran has made a lot of fun memories in Oklahoma, but one memory stuck out to her the most.
"One of my favorite things about Oklahoma is when I went to Lawton to hike the mountains," Tran said.
After finishing school at OCCC, Tran hopes to transfer to New York.
For more information about the Bridge program for international students,  contact Professor Abra Figueroa by email at afigueroa@occc.edu.