International food fair at OCCC March 5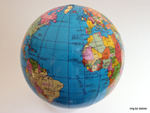 Culture and cuisine from countries such as Turkey, China, Korea, Taiwan, Philippines, Vietnam, and Norway will be offered from 11 a.m. to 2 p.m. Monday, March 5, in CU 2 and 3.
The International Student Association and the OCCC Global Education Committee are working together for the first time to host the Culture and Food Fair, said Modern Languages Professor Ginnett Rollins, sponsor of the event.
The two groups have come together to make this a bigger celebration, Rollins said.
Students, faculty, and staff from around the world will be participating. International students will be bringing food typical of dishes served in their home countries, as well as giving presentations on their culture during the event, Rollins said.
One student is from Gabon, Africa.
He is a very good musician, Rollins said. He plays the keyboard and can sing in three different languages. He will be playing throughout the fair on Monday.
For $6, participants can enjoy an international meal. Proceeds will be used to fund international student scholarships.
Each year the International Student Association gives small scholarships, usually to three international students.
All donations are greatly appreciated, Rollins said.
For more information, contact Rollins at grollins@occc.edu.
To contact Bailey Gatewood, email onlineeditor@occc.edu.