Inside Paul Blair's campaign on election night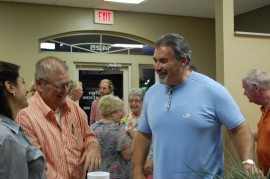 Carol Carmack and Mary Jane Fielden, two seniors from Edmond, happily helped knock on doors, give out yard signs, and talk to hundreds of families about GOP candidate Paul Blair during the past three weeks.
"He's a Christian, he's really intelligent, he's a conservative. That's what I really like," Fielden said.
Paul Blair has campaigned against Adam Pugh since June, running on a platform of a "transparency to the people".
"I've got some ideas I'd like to implement which would allow far greater accountability and far more transparency," Blair said. "It would produce a far more efficient government."
Government is too big, too intrusive, Blair said.
After seeing Blair fall short in the polls, some bystanders at his watch party gasped and worried about Pugh's chance of winning.
Cake, crackers, and soft drinks were on hand, prayers went around the room. Many members of Fairview Baptist Church, where Blair preaches, attended the watch party. Blair's wife, Cindy, and his children maneuvered the room, talking to friends and family.
For a while, spirits were up, even though the outcome looked like it would be down. Paul called the room together and stood to say a word on the results.
Murmurs went around the room as  Blair announced his defeat.
Blair began by applauding his volunteers and campaign helpers, and went on to give a few words about his loss in the election.
"I scare the establishment," he said.  "We don't just talk our faith, we live it. You would think that I would be the ideal, Christian republican candidate. But the people don't want that. The people had a clear choice."