Inside Black Friday: Late night chaos, bargains and concerns
Thanksgiving night is not for the weak hearted.
Known as the biggest night of the year for deals and buys, the eve of Black Friday introduces what's to come for gift givers and professional shoppers.
According to The Balance, a website that compiles data about shopping, about $967 was spent per shopper nationally, while an average of $682 billion dollars was spent for 2017 on Black Friday.
For some retail workers, Black Friday eve means a night away from their families. It also means shopping at a new level.
Sales associate Geoffrey Grossman has been involved at his job for over a year.
His store opened at 6 pm on Thanksgiving night, just as the Black Friday deals began. "We had markdowns all across the store and we did 15 percent off any total purchase of $199 or more if it wasn't already on sale." Grossman said.
Though most in retail had concerns for a hectic shift to erupt, Grossman stayed positive.
"[My coworkers and I] were laughing and smiling before we opened the doors and we kept that attitude throughout the day," he said. "I was cleared for overtime that week which never happens and it was a crazy high sales day all around."
Being primarily commissioned based, Grossman said he didn't feel overworked throughout the busy night.  "My higher ups did everything they could to make the day flow as easy as possible for everyone."
Before the night started, Grossman and his coworkers were briefed on what to expect.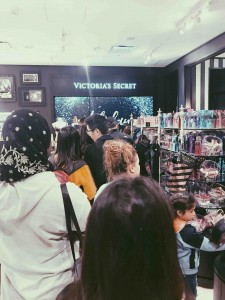 "We had a solid game plan in place," he said. "Despite the hours being long, everything went very smoothly and it was completely worth it. I know that I'm one of the lucky few with that had a relaxed Black Friday, but where I work, I would do it again next Friday. It was my first [Black Friday] in retail and it was much much easier than I expected."
While Grossman was handed a lucky deck for his first Black Friday experience, others focus online. This year, cyber sales hit an all time record.
According to CNN, on Friday the 24th, over 200,000 toys were bought from Amazon within the first five hours of the day.
The article said foot traffic decreased less than one percent when compared to Black Friday 2016.
As of Monday, November 27th, CNBC reported that shoppers have spent $640 million via online shopping.
Within the first 22 days of November, CNBC said more than $1 billion in revenue was rung up.
According to Shopify, more than 1.8 million apparel items 917,000 accessories 531,000 were sold around the world.
While most braved the crowds to stock up their carts, previous customer service representative, Cody Carter avoids them. Carter remembered his experience of Black Friday at Target.
"Other than feeling like I was there for two days, the worst part was definitely being physically grabbed by customers when they were hunting for something." Carter said. "No joke. When you work Black Friday in major retail, people are ruthless."
Luckily for Carter, having an enjoyable staff made the experience lighter.
"I worked with people who made it fun even when it was absolutely maddening." Carter said.
After the chaos died down, Carter and his team dealt with the aftermath.
"People would leave trash, knocked over displays, and just generally destroy the entire store." Carter said, "I don't miss working retail at all."
While these two days can feel like a lifetime, it's a day of discounts, and deals individuals can't stay away from.
As cyber Monday follows, more have found the pleasure of shopping from home, and avoiding the night completely.
Until then, others will still find a reason to venture to the store — an adventure for families with full stomachs and full wallets, who seek a night of endless spending.