Ingrid's Kitchen: tasty German cuisine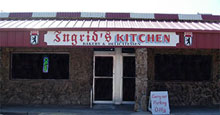 Walking into Ingrid's Kitchen, on N.W. 36th and Youngs Blvd. is like taking a step back in time.
A fixture in Oklahoma City for the past 30 years, Ingrid's is all about old German style, family dining.
The first clue of this is the long wooden tables, seating from 10 to 30 people that fill the main dining area. This type of seating encourages diners to be part of the Ingrid's family and get to know each other.
The smell of fresh baked goods, and a wall of assorted bread, cookies and Danish pastries are reminiscent of a grandmother's kitchen.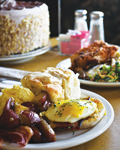 Courtesy Lacey Elaine Dillard
There is a menu, but many patrons have been customers for so many years, few of them use it.
A large cold case filled with offerings of deli meats and cheeses, fresh pies and cakes, as well as the bread display, allows you to make quick lunch choices.
Other fare includes meat loaf, wienerschnitzel (breaded pork cutlet), sauerbraten (marinated beef roast), and bratwurst, all served with sauerkraut, red cabbage, warm German potato salad, and fresh bread.
Ingrid's has a variety of salads as well, including a delicious chef salad.
They also serve wine and beer.
Prices are affordable, ranging from $5 for lunch to $8.50 for dinner.
The restaurant is family friendly, although most of the clientele on the Saturday I visited was 50 and over.
The reason for that could be that on Saturday at noon, the staff moves some of the tables back, sprinkles sand on the floor, and invites the guests to dance to the music of their "house" band, the Houston Group.
This group of semi-retired musicians has been playing together for many years. They do music of the '50s and '60s running the gamut from "At Last," a slow jazz tune made famous by Etta James, to "Johnny B. Goode."
Music was the great equalizer as couples in their 60s and 70s (and older), danced as if they were teens at the prom.
Ingrid's is open 7 a.m. until 9 p.m. Monday through Thursday, from 7 a.m. until 10 p.m. Friday and Saturday and for brunch from 9:30 a.m. until 2 p.m. on Sunday. The band plays from noon to 2 p.m. on Saturday.
The atmosphere is friendly and the food is authentic German cuisine — good and plentiful.
Rating: A
To contact Cynthia Praefke, email adman@occc.edu.