Indian tacos are back on campus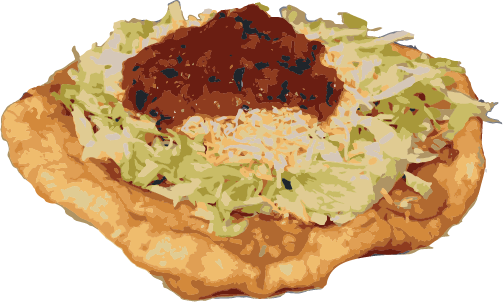 The aroma of fry bread, chili beans, and spicy meat will fill the lobby area outside the Communications Lab during lunchtime on Wednesday, April 27.
This is when the Native American Student Association  will host its second Indian Taco sale this semester to raise funds for club activities, said Cornelia Vann, club president.
Regulars know to get in line early and be prepared to wait a few minutes to be served because the club often runs out of food before it runs out of buyers.
Customers who enjoyed the the Indian tacos in Feb. 24 know the wait in line is worth it. They will be sold for $5 a piece.
WHat: Indian taco sale WHEN: 11 a.m. to 2 P.m. Wednesday, April 27 WHERE: outside communications lab Cost: $5 each Proceeds benefit the native American student association's activities
At the first sale, five club members worked the stand, preparing Indian tacos at the counter, said Tim Niemic, NASA member who served food. He said many more worked behind the scenes to prepare the food to be served.
"It was a super positive experience," he said.
Niemiec said people wait for these events all semester, some of the club's biggest fundraisers.
The club raised $502 during the February event, Vann said.
After expenses, the club retained $333. Due to price hikes in food, they did not profit as much as they normally do, she said.
The money raised goes towards helping students buy graduation gear such as gowns, caps, and sashes. The group also will vote at the end of the semester on where to hold an end-of-the year party. Last year, the group decided to go bowling and spent nearly $300 on their venture, Vann said.
This is not the only event NASA puts on every semester.
Guest speakers are invited to campus as well. Perry Toppah, a Native American artist and activist,  spoke at a NASA event earlier this semester.
For more information about NASA, contact the Student Life Department by phone at 405-692-7817.