'In the Time of the Butterflies' chosen as Big Read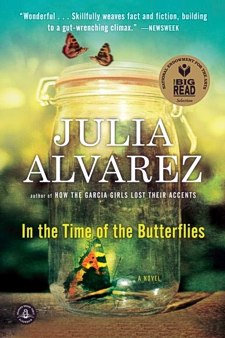 An historical novel about four sisters fighting against political oppression in the Dominican Republic in the 1960s has been chosen for The Big Read at OCCC in the fall.
Julia Alvarez wrote "In the Time of the Butterflies" in 1994.
Library Director Barbara King said she and a group of professors and other librarians worked together to choose the book "In the Time of the Butterflies."
It was chosen off the selected book list of the National Endowment for the Arts, which has funded the project for OCCC in past years.
"'In the Time of the Butterflies' covers many themes: coming of age, courage, crime and justice, identity, integrity, loss and love," King said.
Librarian Rachel Butler said when deciding which book to pick, the group "thought about OCCC's audience and what the students and faculty would like."
Butler said it's a book for the masses.
"It has a global aspect to it," she said. "There are so many themes about issues in life that can appeal to all people."
Butler said any student can participate and receive a free paperback copy of "In the Time of the Butterflies," through their classes or through the library.
King said many campuswide activities are being planned for the fall semester that will be based on The Big Read, and the chosen book.
"The events bring all areas across campus to get involved, and other departments get involved," King said.
"People have a chance to meet other people. It's a real learning experience, and students become really engaged."
King said some professors have already tested the choice in their classes.
"Faculty have come back that have used it in their class and have raved about how engaged the students have become," she said.
Butler said since the chosen book has "parallels that are going on in today's world, readers can relate.
"This is a program … intended to pull the students in and get them involved and to encourage reading."
The Big Read is a nationwide program which encourages people to read and discuss a single book within their communities, according to the NEA website.
OCCC faculty can choose to participate and incorporate The Big Read program into their curriculum, King said.
For more information, visit the library website at www.occc.edu/library.