ICU nurse teaches at OCCC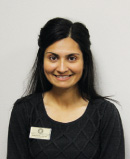 Kajal Pandya
Professor Kajal Pandya left Missouri to join the OCCC nursing faculty in August.
She will be teaching in a specialized accelerated nursing program open only to applicants who already have earned a bachelor's degree in another field. It is called the Bachelors to Associate Degree Nurse Accelerated Pathway or BADNAP, for short.
Pandya moved to Oklahoma City from Springfield, Mo. She has a bachelor's degree in nursing from the University of Missouri in St. Louis and another bachelor's degree in biology from the University of Missouri in Columbia.
She has practiced as a registered nurse for three years. Although Pandya no teaching experience at a university or college before she came to OCCC, she said she had worked as a patient educator in a hospital setting.
She is also an intensive care unit nurse and continues to work part time at the Great Plains Regional Medical Center in Elk City, OK.
She said she is excited to be at OCCC.
"I have made so many friends already," Pandya said. "The students are very helpful and my colleagues have made me feel so welcome. I am happy to be here."
Pandya is currently pursuing a master's degree in nursing for a family nurse practitioner from the University of Southern Indiana.
She got married last summer to her long time sweetheart, Premal Vora, who also lives in Elk City. He is a professional engineer who works in the field of renewable energy.
Pandya said her interest in the nursing field was sparked by the shortage of highly trained professional nurses.
"My advice to those aspiring to be nurses is that it is a very rewarding field," she said.
"It may take you some time to find your niche from the many areas there are to work in, in the field of nursing, but you will find the area that you love."
The need to fill in this gap prompted her to pursue teaching in the field, she said.
"When you're a nurse, you know that every day you will touch a life or a life will touch yours."
To contact Sarah Mukiri,
email onlineeditor@occc.edu