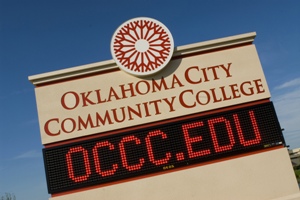 Let's admit it. For traditional and nontraditional students alike, college life can be particularly tough for students looking to achieve a bachelor's degree without the help of parents or trust funds.
Guess what? OCCC is a fortune cookie ready to be cracked. Instead of reading another crummy fortune, you can get advice that will save you some headaches.
Tucked away in a cushy nook between the offices of registration and financial aid, the newly combined Graduation, Employment, and Transfer (G.E.T.) office is a one-stop shop for an easier transition to a four-year university.
"The G.E.T. office is a good spot for students to start the transfer process and think about what school they want to transfer to," said Javier Puebla, coordinator of Transfer and Academic Advising. "You don't have to be graduating this fall or spring to come ask questions. You can start planning for your future by preparing yourself in making purposeful decisions about what courses you take that line up with your degree program at another university."
Transfer tours to major universities in the state are offered at no expense to the student, Puebla said. Destinations include the University of Oklahoma, University of Central Oklahoma, and Oklahoma City University. Tours are personalized according to the majors of the students who go on the trip, Puebla said. And free lunch is provided.
Criminal justice and forensics major Marta Seitz said she has toured UCO and OU.
"One of the major benefits is being able to tour the schools," Seitz said. "Everyone is nervous when they are transferring. The G.E.T. office takes care of that and eases the pressure. It's a bit of a scary process."
Her advice to students is to take advantage of the opportunities to get connected now and know the options.
"Attend G.E.T. workshops and tours," she said. "The school is here to help you."
Seitz said she has used OCCC's transfer services to get acquainted with faculty and staff at UCO, where she plans to transfer after graduation this upcoming spring.
Not everyone plans so far ahead.
One OCCC graduate said he relied heavily on word of mouth through professors and other students to aid in the transfer process.
"(English Professor) Nina Smith gave me advice in the transfer process," said Gabriel Wiseman, art education major at University of Central Oklahoma. "I felt I had all the advice I needed because she's really good at her job.
"I feel that if I didn't have a professor walking me through the process, I would have used the G.E.T. office….if I knew it was a thing."
Outside of the transfer tours, Puebla said, the G.E.T. office offers degree audits to show students how far along they are in their program and what classes they need to graduate. G.E.T. also offers one-on-one transfer advisement to make sure the student's degree plan aligns with his or her career plans.
Students can get information from the G.E.T. office by dropping by first floor in the main building. Puebla said the office sends out notices about transfer services through OCCC email.
For more information, contact the G.E.T. office at 405-682-7519 or send an email to: transfer@occc.edu.