Hispanic Heritage month celebrated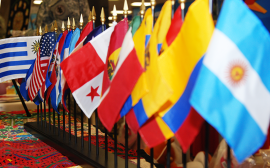 Celebrating different cultural backgrounds is a common occurrence in the U.S. because of its diverse population.
Hispanic Heritage month is one such celebration as a rapidly growing portion of the population — 17.1 percent in 2013 according to the U.S. Census Bureau — comes from a Spanish-speaking background.
Hispanic Heritage month started as Hispanic Heritage Week in 1968, becoming a 30-day celebration in 1988, according to hispanicheritagemonth.gov.
The month-long celebration begins on Sept. 15 each year — the anniversary of the independence of many Latin American countries including Costa Rica and Guatemala — and runs through Oct. 15.
OCCC will celebrate Hispanic Heritage Month as they have done in the past, said Student Life Coordinator Travis Ruddle.
Hispanics make up 15 percent of the college's student population, according to recently-released enrollment numbers.
Ruddle said the school will show a PowerPoint presentation on campus televisions throughout the month, with information about Hispanic Heritage Month.
Boasting a 17.2 percent Hispanic population, Oklahoma City also has numerous events to celebrate Hispanic Heritage month.
This includes "Fiesta de las Americas," a festival taking place from 9 a.m. to 9 p.m.on Saturday, Oct. 3, in the historic Capitol Hill business district on SW 25th Street between S Western and S Shields, according to http://historiccapitolhill.com.
"This year we will be kicking off our festival with our first annual Fiestas Family Fun Run/Walk, then continuing the celebration with our colorful Parade of the Americas, followed by food, games, music and entertainment for the whole family," the site reads.
Paul Burkhardt, Community Outreach Coordinator and Hispanic Organization to Promote Education faculty adviser, said he is involved with setting up the Fiestas Family Fun Run/Walk. He said HOPE members also will be volunteering at the event.
Ruddle said another event taking place that is not during the month itself but is still of importance is the Annual Latino Film Festival.
"It is Nov. 14 at 4 p.m., and this is a part of a PBS series called 'Latino Americans'," he said. "It's actually a progressive set of videos in different places, and one of those parts is here, at the Capitol Hill Center. It's called 'Episode Four: The New Latino.'"
Ruddle said he thinks it is important to celebrate diversity, especially at OCCC.
"We have such a diverse group of students, which we're proud to have," he said.
"It's essential that we meet everybody and find out about each other, each diverse culture that we have, and give the opportunities even for people in that culture to see films, to see specific things about themselves to make them feel good and feel accomplished about what they've got, but also to educate others of those cultures."
Ruddle said it is especially important that Hispanic heritage is celebrated at OCCC, because of its location in Oklahoma City.
"Especially in this region around OCCC, it's very much Hispanic," he said.
"Being so close to that community, it's very important that we attach ourselves to the community and not direct ourselves elsewhere.
"We've got to understand those around us."
For more information about OCCC's celebration of Hispanic Heritage month, contact Ruddle at travis.b.ruddle@my.occc.edu, or at 405-682-7683.
For a list of events around the U.S., visit www.hispanicheritagemonth.gov.