Health Professions Club donates lab supplies to Biology Lab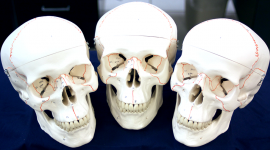 The Biology Lab now has three new anatomical models, or skulls, and one digital lab scale, thanks to a generous donation by the Health Professions Club. Students who have any human anatomy component required for their major will be able to study the skulls for their classes, said Health Professions Club sponsor Stephen Kash.
Club president Caleb Hill said the suture lines — where one bone meets another — on the newer skulls are easier to see and make learning those lines easier for students.
"Each suture has its own name," Hill said. "It's a lot of memorization, so being able to see and touch it, versus looking at it in a picture, really helps out."
He said the scale will be especially helpful for chemistry students, when measurements need to be made to the precise gram.
"It's a lot better than any other scales you can use," Hill said. "It gives more accurate answers and better results."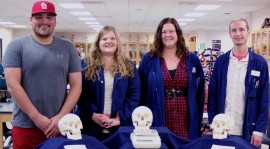 Biological Sciences Center Supervisor Virginia Hovda said she is happy to accept the donation as she knows health professions students work hard and the lab wants to supply them with the best possible materials to prepare them for success in their careers.
"We know in the long run, they're going to be our future," she said. "Future nurses, our future doctors."
Hovda said the lab's goal is to provide students with a hands-on learning experience so students can be successful when they enter the workforce.
"When you go to hospital, you know the nurse that is working with you and for you is well trained and you have a doctor you can trust," she said. "That's what this is about — being hands-on."
Lab assistants said the lab has about 10 skulls total, but these are higher quality than others.
Kash said, according to Student Life, this is the largest donation a club has ever made to the college. The donation is valued at $510. Kash said the donation is made possible by club money from Student Life and club fundraising over the last year.
Though many of the club members have already taken the classes that use the donated supplies, Kash said it will benefit future students.
"For the students to come, it's a donation to the school as kind of a thank you for a job well done," he said.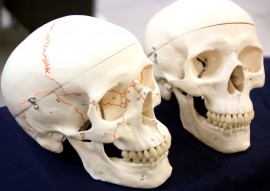 Kash said students in Anatomy and Physiology classes can get in extra study time with the anatomical models in the Biology Lab.
"At least one of these, or maybe two, will be in the Science Center at all times," he said. "That way even during non-lab times, they can come in here — morning, afternoon or evening — and look at the specimens as it fits their schedule."
For more information, contact the Biology Center at 405-682-1611, ext. 7269.