'Halt and Catch Fire'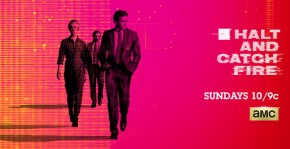 "Halt and Catch Fire" – This phrase printed in phosphorescent green on a black screen gives title to the hour-long AMC drama about the personal computer revolution.
It's also a semi-fictional early computer command that sent the machine into a race condition, forcing all instructions to compete for superiority at once. As such, control of the computer could not be regained.
The definition provides an effective metaphor for the frenetic pace. Characters are swept along by the rapid developments in the late 70's and early 80's PC industry.
It's a surprisingly effective setting for a period drama, far enough in the historical rearview mirror to look back on with nostalgia, but recent enough to feel modern and relatable.
Initially the show centers around two characters. Gordon Clark is engineer in the mold of a young Steve Wozniak. Joe MacMillan is an ambitious young business man who grew up in the shadow of his father who works for IBM.
Joe is not quite Steve Jobs, but the relationship between the two characters is reminiscent of the two Apple founders, one a technical genius and the other a visionary business man. It's Joe's drive that sets the initial direction, with Gordon being dragged along almost against his will.
These two are soon joined by Cameron Howe, a gifted programmer who Joe recruits to code the operating system for "The Giant," an early laptop they hope will revolutionize the PC industry.
Cameron's introduction brings a much more interesting dynamic to the show. Cameron is a woman in an industry dominated by men and a punk kid struggling to work within the corporate machine, even as she rebels against it. She compliments Clark and MacMillian, but also finds herself in conflict with them. Each character pulls things in a different directions, and events seem constantly in danger of spinning out of control.
The best part of the show is the way it changes over time. The characters grow and evolve in different directions. Technologies change, and new characters step to the forefront. Despite this, the show never loses the sense that the characters are about to change the whole world, and viewers get to share a little of the excitement.
Rating: A+
Amar Molinas
Webmaster