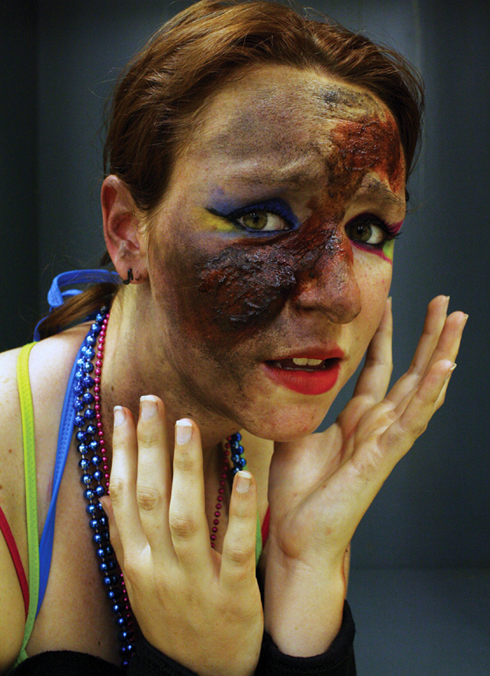 Click to view students in Halloween make-up
Blood, gore and the seasonal spirit have come to OCCC.
Students are learning about faking traumatic injuries, choosing their costumes and planning the designs for the pumpkins they will carve.
On Oct. 14 the theme in Rebecca McCauley's Makeup for the Stage class was gore and gruesome injuries — especially facial trauma.
The class meets once a week on Thursday to learn about different styles of makeup.
During this particular class period, students learned how to create realistic bruises, cuts, scrapes, gashes and even bloody noses, using a mixture of latex, tissue paper, makeup and special blood formulas.
"Everyone looks pretty messed up," said Karlyn Morrison, theater arts sophomore.
McCauley said this particular topic is taught in mid-October because it fits well with Halloween, and the students have more spirit and enthusiasm for gruesomeness.
Also, she said, stores have a much larger variety of the makeup products that are used to create the look of torn and injured flesh during the Halloween season.
Other students are preparing for Halloween in less messy ways.
"You are never too old to dress up and act foolish," said Bonnie Mason, biotechnology sophomore. Mason said one of her favorite Halloween activities is carving pumpkins.
"In the past years I have carved my dog and the Obama campaign logo. This year it is a possibility that I will carve the democratic donkey."
Other students will celebrate by dressing in costumes for Halloween.
Austin Glenn, store manager of Spirit Halloween, said this year's most popular costumes for college students are gladiators and humorous outfits for the guys along with pirates, vampires and gypsies for the girls.
Dallin Corman, sales associate of Spirit Halloween, said some of the newer costumes for 2010 include different versions of Lady Gaga and cast members from MTV's hit reality show "Jersey Shore."
Rachael Privett, graphic communications freshman, said her favorite thing about Halloween is "you can dress however you want and nobody will judge you.
"This year I plan on dressing up as Light from the anime show 'Death Note' and helping with the photo club's Halloween booth at the carnival here at OCCC," Privett said.
"I will also rent horror movies and buy lots of junk food so my friends and I can stay up all night."
Anthony DeMauro, liberal arts freshman, said he enjoysgoing to stores and "seeing costumes and the kids being so excited.
"I will be celebrating this year and dressing up in a '60s mod fashion outfit," DeMauro said.
Tawny Hacker, theater arts sophomore, said she has a costume picked out as well.
"I'm going to dress up this year as Flo from the Progressive commercials on TV," she said. "It's a costume that is fun and easy to put together."
Hacker said her Halloween fun extends beyond donning a costume."So far, my house has some decorations and a little graveyard," she said.
Hacker said she also plans to take her daughter trick-or-treating and help operate a haunted house.