Guild calls off recount, McAffrey retains Demo nomination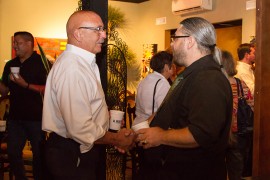 A recount for the congressional race between Democrat Tom Guild and former state Sen. Al McAffrey was stopped Wednesday, one of the candidates said Wednesday.
Democrat Tom Guild, who ran against former state Senator Al McAffrey for the Democratic nomination in the state's 5th Congressional District, posted a message on Facebook saying he had stopped the recount.
"I stopped the recount after about two thirds of the precincts were counted and about seventy percent of the votes in Oklahoma County were counted. The margin grew from 40 to 43 votes. Thanks for having my back and your friendship," he said.
Guild and McAffrey faced each other in the August 23 statewide primary runoff election. Initial election results show that McAffrey defeated Guild by a initial margin of just 40 votes.
In the election 8,025 votes were cast for McAffrey while 7,985 voted for Guild.
Guild raised $2100 from supporters to cover the cost of the recount in Oklahoma County.
Early reports by the State Election showed that McAffrey remained ahead of Guild. More votes were found to be counted for McAffrey after the recount.
McAffrey will now go on to face Republican U.S. Rep. Steve Russell and Libertarian Zachary Knight on November 8 in the general election.