Greater Grads interns ready to meet with 'movers and shakers'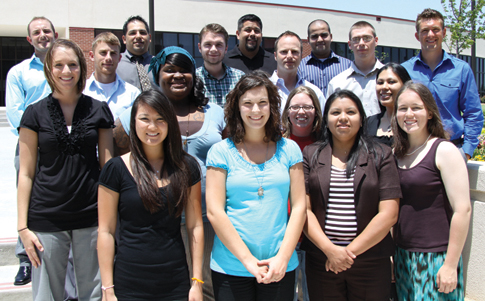 College students from all over the state, including 22 from OCCC, will rub elbows with the elite members of Oklahoma business and society as part of a summer internship with Greater Grads, said Debra Vaughn, Career and Employment Services director.
The interns will attend luncheons all over the city including places such as the Skirvin Hotel, Ford Center and the Cowboy Hall of Fame.
Vaughn said the goal of the Greater Grad internship program is to open doors for students and help them to make contacts.
Greater Grads is sponsored by the Oklahoma City Chamber of Commerce.
"The idea for you is to network with other college students and businesses," Vaughn said in her presentation to the group June 1 at the college.
She said the program exposes successful college students to what they can expect in the world of business.
With help from Judi McGee, Student Employment and Career Services coordinator, interns from OCCC were treated to a formal luncheon in the college union where they were given a short presentation about dining etiquette
"You are going to be meeting with the movers and shakers in Oklahoma City," McGee said during a presentation to the interns.
More than 300 students from colleges and universities were recommended by professors in majors ranging from early childhood education and visual arts to business finance and advertising, Vaughn said.
In addition, known members of Oklahoma City society will also attend the Greater Grads events.
In the past, Mayor Mick Cornett has attended, as well as CEO's of major Oklahoma companies including Chesapeake and Devon Energy, Vaughn said.
Allison Phisaiwatn, English literature major and Greater Grad intern, said networking with people and meeting all of the other interns was what she most looked forward to.
Zack Stevens, Entrepreneurship major, agreed.
"I'm ready to meet some people," Stevens said.
Chris Anthony, Graphic Communications major, said he will use the internship to find out what will be available in future job markets.
For more information about the Greater Grads program, contact Vaughn at dvaugh@occc.edu or 405.682-1611, ext. 7362