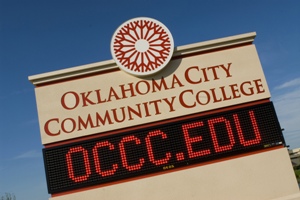 OCCC students can now get three times the help from one office. Three separate departments were recently combined to form Graduation, Employment and Transfer services (GET), a single department dedicated the student's future beyond OCCC, said GET Director Jill Lindblad.
Lindblad said the reorganization will provide more opportunities for OCCC students to take the next step after graduation from OCCC, whether that is directly entering the workforce or continuing their education.
"The general idea of our office is graduation and beyond," she said.
"We call ourselves GET — get a degree, get a job or get transferred to a four-year university."
Lindblad said The Transfer Center, formerly part of Academic Advising, is now part of GET. She said the former Student Employment and Career Services was split between Academic Advising and GET.
"The career advisement is still being coordinated by Academic Advising," she said. "We do the employment piece — developing post-graduation job placement.
" … Our focus is helping students not only graduate, but move on to a job."
Along with post-graduation employment, Lindblad said, GET employees also intend to provide students with resources such as career fairs and internship opportunities.
"We hope to have helpful events for students related to their progress toward their degrees, transfer fairs, job fairs and developing resources for internships," she said.
"All about graduation and the steps beyond — that's what our office is going to focus on."
Lindblad said a cohesive website is still being developed for the new department. GET is located on the first floor of the Main Building.
For more information, call 405-682-1611, ext. 7470.