Graduates need to plan for commencement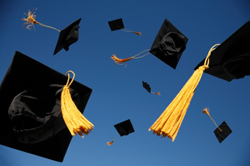 As OCCC graduates plan for the upcoming commencement, there are a few things they need to know, said Barbara Gowdy, graduation services director.
The ceremony will take place at 7:30 p.m. Friday, May 16, in the Cox Business Services Convention Center, located at the intersection of Reno and Robinson in downtown Oklahoma City.
Gowdy said graduates need to check-in between 6 and 6:30 p.m. in Exhibit Room E, located in the west hallway of the Cox Convention Center.
There, graduates will receive a name card they will need to keep with them throughout the ceremony, she said. All graduates will need to fill out the back of the card before the ceremony begins.
" … That's what they pass to the reader [to] read their name as they walk across stage."
After the ceremony, Gowdy said, the name cards will then be given to the photographer who will contact the students later with their picture proofs.
Gowdy said graduates will line up in two lines after checking in, which will be around 7:15 p.m. They will then be led into the arena to their seats.
She said there is no particular order so students can line up in any order.
"They can line up with friends or whatever… ."
Wearing a cap and gown is an absolute requirement for walking in the ceremony, she said.
Students will not be able to participate if they are not wearing their cap and gown.
"Some people wear it, some people just bring it with them and put it on when they get there," she said.
Caps and gowns are available in the OCCC Bookstore for $35 through May 16.
Parking will be available in various spots around Bricktown. The cost to park underneath the Cox Convention Center is $8.
"It's Bricktown (so) there's parking all around," Gowdy said. "There's parking hopefully under the Cox Convention Center. They're on their own as far as parking goes."
Gowdy said the ceremony will last around two hours to two and a half hours, depending on the speakers and how many students show up.
"We usually have them out of there by 9:30 p.m. or 10 p.m."
Seating for parents, friends, family and children will open at 6:30 p.m. Gowdy said graduates are encouraged to invite their loved ones to join in on the momentous occasion.
"Just come celebrate," she said.
A live video feed also will be offered on OCCC's website so friends and family who are unable to attend can still be a part of the graduation ceremony.
The video feed will be available at www.occc.edu/ivd/commencement.
For more information, call 405-682-7528, or email bgowdy@occc.edu.