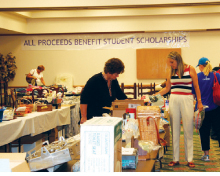 Sheila Mazkoori/News Writing Student
The Faculty Association held a garage sale and silent auction raising more than $3500 for student scholarships.
The Faculty Association garage sale and silent auction made a record sum of more than $3,500 for student scholarships, said librarian Linda Boatright, a member of the scholarship committee.
Books, clothes, movies, radios, televisions and a dining set were just a few of the items at the sale Oct. 2 and 3 in the OCCC Union.
The silent auction and the garage sale were seen as a success by faculty and students alike.
"The faculty garage sale was a great way for all of the faculty members to come together for a common good," Boatright said. She wanted to thank the various contributors for their donations.
"The sale allowed people to get things they needed and even a few things they probably didn't need," Boatright said.
Student Wendy Turner said, "I'm loving the deals and it is so great that the faculty is raising money that will go toward helping students in need of scholarships."
Elizabeth and Emanuel Ramos, both students, said that they thought the garage sale was really cool and that the faculty should do a garage sale more often.
On the second day, remaining items were marked half off which for several was seen as an additional bonus. The silent auction ended at noon on Friday and everyone was allowed to pay and claim their items.
Students who would like to apply for a Faculty Association scholarship must first obtain a faculty sponsor who would be willing to recommend them. Both the professor and the student must complete portions of the application form, which can be obtained from history Professor Jeff Carlisle or other members of the Faculty Association Scholarship Committee.
To contact Sheila Mazkoori, email onlineeditor@occc.edu.