Gamels recognized for contributions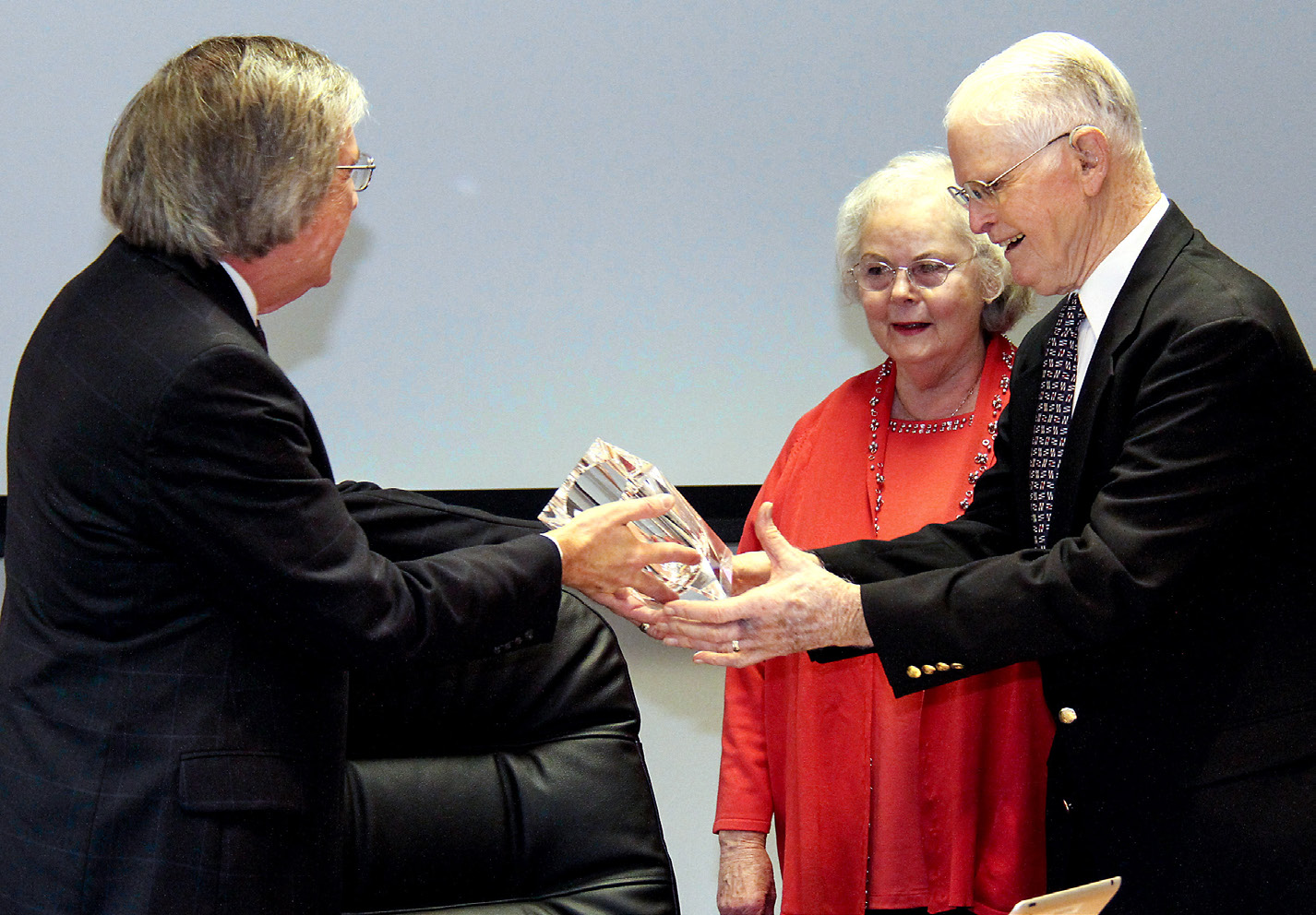 OCCC supporters Ralph and Connie Gamel were recognized for their contributions to the college at the Oct. 15 Board of Regents meeting. Since 2006, the Gamels have donated a total of $165,000 toward student scholarships.
Speech Communications Professor Julie Corff, who has known Ralph Gamel since she was 8 years old, said the recognition means a lot.
"They got a standing ovation. They were very wowed," Corff said. "But we are wowed they choose to bless us with all they do here." she said.
President Paul Sechrist said he supports recognition.
"Given the significant commitment the Gamels have made to OCCC and our students, we felt like we needed to honor them," Sechrist said in a recent email.
"Recognizing the Gamels at a board meeting provided an opportunity to publicly thank them for their generosity."
The Gamels were presented with an engraved glass vase and roses at the meeting as a token of gratitude.
To date, 165 students have received the Ralph and Connie Gamel Scholarship which is awarded twice a year to students who meet the qualifications.
Students must have financial need to attend OCCC, have a minimum 2.0 GPA, be committed to completing a degree at OCCC and plan on seeking a four-year degree to apply.
Eligible students also must complete a 500-word essay stating their educational goals, future employment career goals, and how an education at OCCC will help achieve those goals.
Those selected for the scholarship are awarded from $200 to $1,000 based on need. The deadline for spring 2013 is Dec. 9.
Corff said the scholarships have truly made a huge impact on not only the school but also students and their success.
"I know students personally who have gone on to get their four-year degree [who] wouldn't have because they wouldn't have had the stability to stay in school financially," she said.
"I'm grateful for [the Gamels], I'm grateful for their hearts and I'm grateful they choose to give to our OCCC students so they can have a better life."
Gamel scholarship applications are available at https://occc.academicworks.com or by visiting www.occc. edu/foundation.
To contact Erin Peden, email staffwriter1@occc.edu.