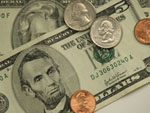 For students who are struggling to pay for school, scholarships may be the answer they seek and now is the time to begin applying for fall scholarships.
While a simple web search can bring up hundreds of available scholarships, students can also access applications for scholarships and other financial assistance right here on campus.
General Scholarships:
Recruitment Student Services Assistant Linda Sapp said scholarship applications and information are available on the wall in front of the Admissions office.
A list of available scholarships shows ones awarded nationally, locally, and on a school level.
Sapp said new scholarship information can be released at any time, and students need to check back often.
Locating grants, scholarships, and other financial aid
On Campus:
• The Admissions Office
The Admissions Office has a list of all scholarships available to OCCC students. Several different types of scholarships are available. To contact the Admissions Office, call 405-682-1611, ext. 7580, or 405-682-1611, ext. 7584.
• Financial Aid
The Financial Aid Office has applications for departmental tuition waivers, and also processes FAFSA applications, OHLAP, and OTAG grants. Starting Feb. 1, scholarship applications will be available online.
Online:
• FAFSA (http://fafsa.ed.gov [1])
This process allows you to apply for federal grants and loans. A FAFSA application is also an application for an Oklahoma Tuition Aid Grant (OTAG).
• Fastweb (www.fastweb.com [2])
Fastweb is a search engine that gives access to hundreds of scholarships set up by schools, corporations, institutions, and private donors. Scholarships can be found on the national and local level.
• Cappex (www.cappex.com [3])
Cappex offers searches for scholarships, and gives an overview of colleges for students trying to find the right fit.
For more information on other types of available scholarships and financial aid options, contact Linda Sapp, Recruitment Student Services assistant, at 405-682-1611, ext. 7654, or e-mail lsapp@occc.edu.
"I encourage people to come by at least once a month," Sapp said.
To be considered for most scholarships, students need to apply far in advance for the semester they want to meet the deadline. "You need to apply about 6 months before the actual semester," Sapp said.
She suggested students should start applying in March for next year's scholarships to meet the deadline.
Moving Online:
Currently, OCCC scholarship applications are available in paper format, but will transition online in February.
"We are moving the scholarship process online because there's too much paper to keep track of," said Jennifer Harrison, Institutional Advancement development Director.
The move online is beneficial not only to administrators, but to students as well.
"It's just going to be more user friendly," said Harrison.
"Students will be able to put in some basic information about themselves.
"They'll be able to find out what they're qualified for more easily."
Putting the applications online also speeds up the process of awarding students.
Currently it takes 5 to 6 weeks for a student to find out if they've been awarded a scholarship.
Harrison says the new process should cut that time down to 2 or 3 weeks.
Students will find out online if they have been awarded a scholarship.
Although many scholarships require a certain GPA for qualification, Harrison encouraged all students to look into scholarships.
"I advise all students to apply," she said.
"Just because you have a 2.0 doesn't mean you won't qualify for some scholarships."
Tuition Waivers:
Students can also apply for tuition waivers to help pay for classes, said Harold Case, Dean of Student Financial Support Services.
Unlike a scholarship, a tuition waiver can only be applied to tuition, and not used for books or fees.
The Financial Aid Office generally offers two types of waivers.
One is the departmental waiver, which can only be applied for certain times of the year.
"Each department has their own criteria, but basically [students] have to be enrolled in at least 6 hours during spring and fall, and 3 hours during the summer," said Mia Rojo, Assistant to the Dean of Financial Aid.
Departmental tuition waivers are merit-based, and each department determines whom to award the waivers to.
To begin with a student has to prove he or she is in good academic standing.
"They have to have a transcript attached to it," said Rojo about the application.
Students will have the opportunity to apply for summer and fall tuition waivers later this year.
The other waiver is a Financial Need Tuition Waiver. Unlike the departmental waiver, the Financial Need waiver is determined by your FAFSA.
The Financial Need Tuition Waiver is treated like federal aid.
"It's based totally on need," said Case.
"It will go on the award with your Pell Grant or other aid you are offered."
For more information on available scholarships, contact Linda Sapp at 405-682-1611, ext. 7654, or e-mail at lsapp@occc.edu.
For more information about Tuition Waivers, contact the Financial Aid Office at 405-682-7525.
To contact Mary McAtee, email staffwriter2@occc.edu.