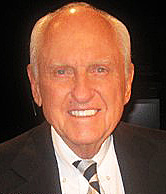 Former Oklahoma Gov. David Hall said the future of this state is in the hands of the younger generation here at OCCC and in other colleges.
"I believe it's in safe hands," he said.
Hall spoke at the Sarkey's Foundation Atrium on campus Nov. 20. He was elected governor in 1970 and was making his first public appearance in the state since leaving office.
Hall also spoke to the students about the importance of just a single vote.
When he won his election, Hall said, he won by about one vote per precinct.
He noted similarities between his time as governor and the present. Hall said problems like teacher salaries, higher tuitions and more were just as big back then as they are today.
Hall originally ran for governor in 1966 but was unsuccessful at his bid for the Democratic nomination. He said he tried again and won the election in 1970.
Hall said he had a good chance to be re-elected in 1974 but he got entangled in a bribery scandal and ended up serving 18 months in federal prison. To this day Hall believes his conviction was wrong.
"It is something I didn't do but I have to live with," he said.
After the scandal, Hall moved to California.
"California is the only place that would give me a job with my past history," he said.
While his term ended on a sour note, Hall said the state made great strides in his four years as governor.
One of Hall's major accomplishments had to do with changes in the state tax code, he said. He got the bill passed which helped out the lower and middle classes by taxing the highest 5 percent more than the other 95 percent. This helped the Oklahoma economy, he said, but did not win him any fans with the richest 5 percent.
He pointed with pride to the fact that he also signed the bill that made OCCC, then known as South Oklahoma City Junior College, a part of the state system of higher education.
Perhaps the most infamous event in Oklahoma when Hall was in office was the riot at McAlester state prison in 1973. Inmates had taken over the prison and had taken many guards hostage. One plan, which Hall said he refused to approve, was to infiltrate the prison with soldiers of the National Guard, but Hall wanted the least amount of bloodshed possible. Hall managed to negotiate and get all of the hostages out within 24 hours.
When his lecture was over, Hall wanted to show his love for Oklahoma and got the audience to sing "Oklahoma." It put the biggest smile on his face.
More former governors will visit OCCC in future semesters. Gov. George Nigh will speak in the spring of 2015, Gov. Frank Keating will be here in the fall of 2015, and Gov. David Boren will be here in the spring 2016.