For parents attending college, balance is key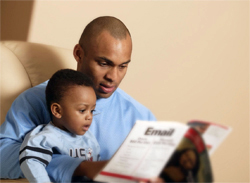 For psychology major Robert Bedford, failure is not an option.
Bedford, 29, is a single father of two girls, ages 5 and 4, and a 2-year old boy. And, like many other parents, he is juggling school with a busy home life.
"I came back to school to provide a better life for my family," he said. "I worked 10 years and I was barely making it."
Bedford said his children go to daycare while he is in school full-time. When he comes home, he tends to their needs first, then does his homework while they sleep.
In addition to duties at school and home, he said, he is currently undergoing a custody battle with his children's mother.
"[It's] hard," Bradford said. "[But] I am determined to make it better."
Cinnamon Russell, biology major, said she also struggles with balancing schoolwork and taking care of her 2-year-old son by herself.
"I am making a better, [more] stable life for my son and I," Russell said. "I sacrifice now so I won't have to later."
She said the variety of classes available at OCCC played a factor in her enrollment.
"I love knowing if I need to take online or evening classes, I can," Russell said.
Even for two-parent households, balancing classes and children is no easy task.
"It's really difficult," said education major Christopher Netty, who attends classes with his wife, nursing major Elizabeth Netty.
The couple has two school age daughters.
"Our zeal helps us propel ourselves for a better job and future for our kids," Christopher Netty said.
He said he works full-time during the day and comes to school in the evenings, while his wife works part-time during the evenings and weekends.
A parent is always with their girls, he said.
The Nettys make sure they spend quality time with their girls on the weekend, Christopher Netty said.
"They see our hard work every day and know it's the way," he said. "It's not easy, but we press on."
Nursing major Jessica Onesky, 22, said her 2-year-old daughter attends OCCC's Child Development and Lab School on campus.
"[My life] is crazy, but determined," Onesky said. "It is not easy being a parent and going to school.
"I am thankful for the CDC and the learning skills they instill in my child."
Like Bedford, she said she spends time with her daughter after school and does her homework after she goes to bed.
"I know an education is the only way," Onesky said.
Barbara Carter, CDCLS assistant director, said the center provides learning experiences for children whose parents are students at OCCC.
Carter said the center offers student scheduled childcare, where students can bring their children in for the duration of their class session.
Childcare is extended for evening classes, she said.
Carter said sessions cost $5 each and enrollment for the spring semester is tentatively scheduled to begin Oct. 25.
For children already enrolled in the CDCLS, she said, pre-enrollment will begin Oct. 18.
Because slots for child care fill up fast, the center runs on a first-come, first-serve basis, said Lee Ann Townsend, lab supervisor.
For more information about the CDCLS, contact Townsend at 405-682-1611, ext. 7423, or visit www.occc.edu/ChildDev.