Flirtation, financial frustration on campus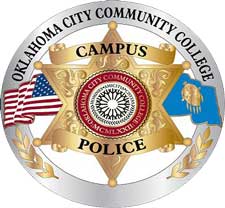 On April 8, a mother of a Pathways student reported to the OCCC Campus Police Department about a minor flirtation on campus. Based on the report, she said that a man, 33, tried to talk to her under-18-year-old daughter.
Police Officer Jeremy Bohannon reported that he and other dispatching officers made some searches around campus to look for the suspect. He said he attained the man's contact information through the Recreation and Fitness Office.
When Bohannon met the suspect, the suspect admitted that he had talked to a female on campus who he thought was 20 years old. However, after he figured out she was a minor, he was no longer interested in communicating with her and left.
Bohannon reported that the suspect, whose name was redacted from the report, also apologized to the female's mother when she came and stopped him, then he left campus.
On April 12, a verbal argument was reported to campus police.
Based on the report, a former student called the Bursar's office to complain that $87.22 was being taken from his Oklahoma tax return for a debt to OCCC. After Bursar's office staff checked the looked up the student's information, she found that this had taken place because he owed money for classes he signed up for but did not drop in the Fall of 2010.
The student argued that he had dropped the class and questioned why it took five years to process the deduction and why nobody had contacted him before.
The college worker, whose name was redacted from the report, also explained to him that the decision to intercept money from his income tax refund was made by the Oklahoma Tax Commission and independent of OCCC.
It was reported that after the student hung up the first time, he said "If I have to come up to the college, there will be a problem." Then he called back and  another Bursar's office employee answered the phone. After receiving the same information, the student began yelling and then hung up. An investigation is pending.
On April 7, OCCC Campus Police Officer Ronald Ventresca was dispatched in response to a stolen personal property incident on campus.
Jumyl Zhang, 20, reportedly told police that at 3:30 p.m., he placed his backpack which contained a wallet and a laptop in a locker in the Wellness Center men's locker room and left without locking it. When he returned at 6:40 p.m., he found that his laptop and wallet were missing. Zhang said the missing laptop was an Apple laptop worth around $1,100 and the wallet was blue and contained some Chinese currency, his Chinese passport and a Bank of America debit card.
Ventresca explained to Zhang that there are no surveillance cameras in the locker rooms.
On April 5, a possible collision was noticed in the surveillance camera footage in parking lot C.
Campus Police Officer Andrew Schmidt said when he was viewing the video from 12:02 p.m., he noticed a white Chevrolet Tahoe was attempting to park. When the vehicle was pulling into a parking space, he spotted a silver Dodge Durango swaying back and forth as if it had been struck by the white Chevrolet Tahoe.
Schmidt reported because of the camera angle, he was unable to distinguish how many vehicles were hit. He located the driver, whose name has been redacted from the report.
He reported that the driver of the Tahoe admitted she hit a vehicle but she did not have enough time to leave a contact note on the car she'd struck.
An Accident Information Exchange form was completed by the driver. As of press time, no victim has come forward to report  damage to their vehicle from that day, April 5, Schmidt said.
Some information was redacted from the reports under the direction of Marketing and Public Relations Director Cordell Jordan, who said names are redacted "according to OCCCPD Standard Operating Procedures involving information released and information withheld."
To obtain a copy of the procedure, email cjordan@occc.edu.
To contact campus police, call 405-682-1611, ext. 7747.
For an emergency, use one of the call boxes located inside and outside on campus or call 405-682-7872.