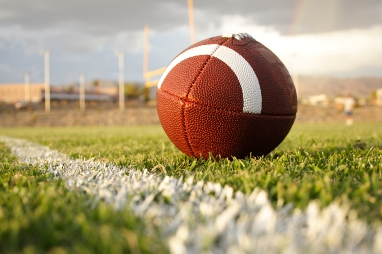 A brotherly connection proved to be the difference as flag football team You Know finished with a dramatic triple overtime victory over the OCCC Dream Team 36-29 on Sept. 24.
Jordan and Josh Vanover's four combined touchdowns led their teammates to a victory in the week two flag football matchup.
The Dream Team put the first points on the board as a 35-yard bomb set up a quick goal line score early in the first quarter. You Know would find an equalizer a couple of drives later via quarterback Jordan Vanover's pass to Ben Dunn. The extra point gave them an early lead, 7-6.
The rest of the first half stalled as each team held the other offense in check by creating turnovers. During a last-minute drive for the Dream Team, Josh Vanover picked off a crucial pass to end the half.
The scoreboard started to light up with the onset of the second half. You Know came out firing, led by a time-consuming drive capped off with a touchdown pass by the younger Vanover brother, Jordan.
The Dream Team's quarterback, Nick Pinkerton, led a 16-point surge to give his team the lead 22-14 early in the fourth quarter.
The lead wouldn't last too long as You Know came right back down the field as the Vanover brothers connected in the end zone for the score and eventual extra point to tie the game at 22 apiece.
The Dream Team's subsequent drive failed to garner a game-winning score and led to the first overtime. Dream Team player Justin Tran said he expected to win the game in regulation.
"It was disappointing not to get a score there," Tran said. "We wanted to get the game over with but we weren't able to put it in."
From there both teams drove the field with ease finishing with 7 points each, keeping the score knotted up at 29 and forcing a second overtime.
In double overtime, The Dream Team began with the ball, but with a change at quarterback. Cameron Vanetten took over the passing duties in an attempt to provide a spark for his team.
However, the offense on both sides took a backseat as each team's defense had game-extending interceptions. The third and final overtime would ensue.
After stalling on the opening drive of triple overtime, the Dream Team turned the ball over on downs that gave You Know a prime opportunity to win the game.
Once again, the Vanover connection proved to be the decisive factor as Jordan threw yet another touchdown to older brother Josh giving their team the impressive victory.
Josh Vanover had nothing but praise for his team's effort.
"It was a hard fought game," Vanover said. "The better team won today."