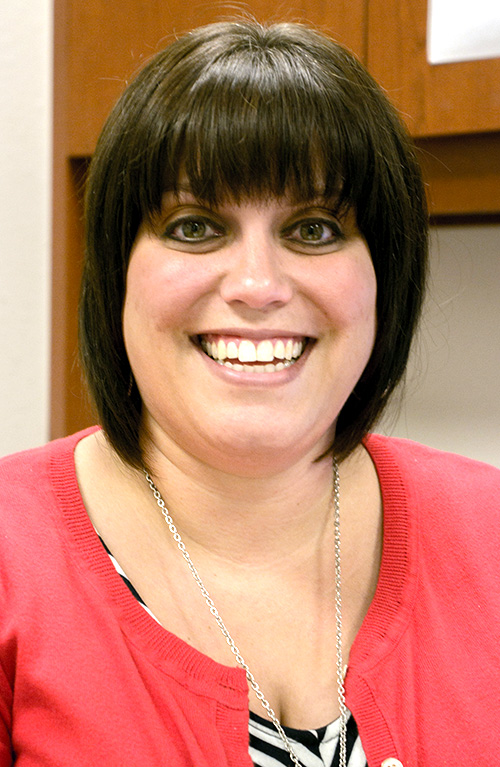 Meghan Morgan, Financial Aid assistant director, said she was almost speechless when she won the Professional Employee of the Year for 2014 at the Annual Convocation and Employee Recognition Ceremony on Aug. 12.
She said she enjoys helping students accomplish what they otherwise might not be able to without financial help.
"If they don't have financial aid, they can't afford to go to school, and it makes a big difference, she said.
"I've realized what a big difference I can make in somebody's life.
"[I see a lot of adult students who say] 'OK, I've raised my kids, and I didn't go to school and now it's my turn to get an education.'
"Helping them find ways to be able to afford that with financial aid, really makes a difference to a lot of people. I think that's one of the greatest things about it."
"I was just really humbled and honored and when I got up there and Dr. [Paul] Sechrist asked me if I had anything to say," she said.
"I was kind of stumbling around because I really was so surprised."
Morgan said she doesn't feel deserving of the award because so many other faculty and employees at OCCC work just as hard as she does. She said she gives credit to the people who work in her office, mentor her and help lead her.
"I didn't know or expect it at all, because there are so many great employees here … ," Morgan said.
"We're all just working at doing the same thing, which is providing a great, affordable, quality education for students."
Morgan said she has worked in financial aid for 13 years with eight of those years at OCCC.
She originally started out as a financial aid adviser, she said, before being promoted to financial aid client services coordinator. Then, she said, she was put in her current position as financial aid assistant director where she has been for four years.
Morgan said she loves her job and what she gets to do each day.
She said one thing that stands out each year is graduation, because she gets to see the students she helps each semester. Getting to know each student individually is a privilege, she said.
" … I do get to talk to students a lot of the time one-on-one and a lot of that is helping to resolve issues and problems.
"So, a lot of times, you become their person that, when they come in, they always say, 'I just want to talk to Meghan.'"
Morgan said OCCC is a great place to work and go to school.
"I hope I continue to be here another eight years … because I just really have enjoyed it," she said.
For more information about the Professional Employee of the Year, visit www.occc.edu/hr/EmployeeRecognitionAwards.