Financial Aid office reports increase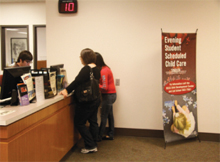 Robert Bolton/Pioneer
The Office of Financial Aid, located in the Main building just across from the Testing Center, offers assistance in applying for and receiving aid. The office reported an increase in applicants as a result of the current economy.
The Office of Financial Aid will be distributing about $9.5 million to 4500 students this fall, which adds up to about $2000 in aid per student.
The students will be receiving their money through their Higher One Cards. These are students who have qualified through the Office of Financial Aid and meet the requirements that state and federal governments mandate.
"In recent years, there have been more students applying for financial aid," said Harold Case, the dean of Financial Aid.
The growing number of students applying for financial aid could be associated with today's economy – there is more unemployment, people are getting fewer raises, and the cost of living is going up.
The numbers for the 2010-2011 recipients show that there are 6982 grants, 4620 loans, 1936 scholarships, 2770 tuition waivers, 342 work-study positions, and 781 military veterans.
OCCC student Brooke Ward said she thinks the distribution of $9.5 million in financial aid could not have happened at a better time.
The Office of Financial Aid is made up of around 16 employees, which means each employee must meet the needs of 350 individual students who receive financial aid. One goal of the Office of Financial Aid is to reorganize the staffing plan to establish additional Financial Aid adviser positions from four to six, providing for improved direct service to students by reducing caseload size.
They have also established two assistant director positions to help with management, supervision and compliance.
Case said his job is extremely rewarding. He has been a part of the Office of Financial Aid for more than 17 years.
Since 93 percent of financial aid comes from federal funding, Case said, his biggest challenge is being compliant with federal regulations since they are constantly changing.
To contact Madison Marquardt, email onlineeditor@occc.edu.