Financial Aid Dean points out mistakes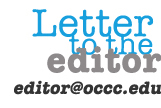 Unfortunately the two articles in [the Jan. 13 edition of the] Pioneer have misinformation that needs to be corrected.
1. Financial Aid Title IV Regulations, pertaining to Satisfactory Academic Progress (SAP), went into effect July 1, 2011, for SAP evaluations beginning with fall semester. The Financial Aid Office has made numerous attempts to inform students and our campus colleagues of these changes.
2. The Financial Aid Office staff make numerous presentations to students in the Success in College and Life courses throughout the fall semester. During these presentations, changes in the SAP policy were explained.
3. Financial aid students at risk after the close of the 2010-2011 financial aid year were notified by email Aug. 7 that changes had occurred that would specifically impact their financial aid at the close of fall semester. They were encouraged to seek help from Student Support Services during fall to try to meet standards. The Financial Aid Office forwarded the list of at risk students to Student Support Services for contact purposes. The week fall grades were posted all financial aid recipients were sent a post card (because they may not be checking email) that Satisfactory Academic Progress notices would be emailed that week and students should check their email. Students were encouraged to take necessary action online, over the break, to help expedite appeals. Those email notices went out to all students evaluated on Dec. 23, 2011. For several years the Financial Aid Office has used email as the main source of communication with students.
4. Each year when students are awarded Title IV Federal Financial Assistance, email notifications are sent informing students to view their awards on their MineOnline account. In the text of that email are links to several important and required online documents that address important information students need to understand pertaining to financial aid. Satisfactory Academic Progress (SAP) is one of those and the latest policy changes have been out there since last spring on the Financial Aid webpage prior to the start of the 2011-2012 award cycle.
5. The Financial Aid Office evaluated 6,142 students last fall and 6,237 students this fall. Last fall 745 students went to an unsatisfactory status and this fall 1,259 students went to an unsatisfactory status. The increase of 514 from last fall to this fall is likely the result of the changes in federal regulations. Since Jan. 3, 477 appeals have been approved. These students are enrolled for spring.
6. Withdrawals have always been considered unsuccessful under Federal Title IV regulations. This has always been in the SAP policy available to students as hard copy, online, and even mailed. It is now a link on their award notification email as well.
7. Evaluating cumulative academic history has always been a requirement of Federal Title IV regulations pertaining to SAP policy. That is the purpose of the appeal process, which has always been available.
8. Federal Title IV requirements for appeals stipulate each appeal must be handled on a case-by-case basis. Many appeals are not approved because the cumulative impact of academic performance will make it impossible for a given student to reach GPA (1.7 or 2.0) or completion rate requirements (67 percent) of attempted credit hours before they hit a third standard and that is completing a certificate within 45 credit hours or a degree within 90 credit hours attempted. Bottom line, dropping courses to maintain a GPA doesn't enable a student to maintain eligibility for Federal Title IV Student Financial Assistance. It's all in the SAP policy. The Financial Aid Office, per Federal Title IV Regulations, is not allowed to use academic forgiveness/reprieve when evaluating academic progress.
9. It was not mentioned that the College (Financial Aid) chose to implement the Financial Aid Academic Plan (FAAP) to help provide an opportunity for students to seek assistance from Student Support Services and extend financial aid eligibility for students who may meet standards in a couple of semesters if given the opportunity to be on a FAAP. This was not a requirement of Federal Title IV regulations but an option for Financial Aid Offices and the FAO at OCCC worked with Student Support Services to put the plan in place. Of the 477 appeals mentioned above that have been approved, 53 are approved for a FAAP.
10. The "phone number" for Financial Aid given in one article was actually the fax number.