Fighting Oklahoma's opioid epidemic
On October 8, 2002 at age 14, Rob Kenyon was hit by a car.
He suffered 13 broken ribs, collapsed lungs and lost nearly a liter of blood. Doctors put two rods and five pins in his right leg. He was in a coma for six weeks.
For the pain, doctors prescribed him an assortment of opioid medication. This was the beginning of Kenyon's relationship with drugs.
By age 15, he was hooked.
"Once you get on them you build a tolerance," Kenyon said.
Eventually, he said, his prescriptions alone couldn't do the job anymore.
Before his accident, he says he had never even smoked marijuana, but it wasn't long before Kenyon began to immerse himself in the drug culture.
He said drugs were a coping mechanism and a way for him to escape the physical and sexual abuse of his own mother. Soon he was mixing different medications; Fentanyl, Roxycontin, and Dilaudid with cocaine and alcohol.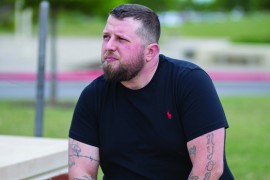 "The way I was using, I just didn't give a damn anymore. If I die, I die," He said, "I've cheated death so many times, I've lost track."
According to a 2009 study by the National Survey on Drug Use and Health, Oklahoma ranks first in all age categories for the consumption of nonmedical pain relievers. The same report indicates that 83 percent of drug overdose deaths were attributed to pharmaceutical drugs.
Oklahoma City Community College Health Professions Lab Assistant and former Paramedic Harvey Parker, says that when it comes to addressing the state's drug overdose problem, nursing and EMS students are trained on the use of Narcan.
"Narcan basically works in the body to block opioid receptors. This can be problematic for us because for someone who has intentionally overdosed or is an addict trying to get high, they can get really combative when they come out of it.", he says.
A report from the Oklahoma Policy Institute, an independent think tank, shows the state has been disproportionately affected by the opioid crisis. Oklahoma ranks 44th as the most unhealthy state in the country chronic pain related to sedentary lifestyles, poor dental health, and work related injuries contributes to Oklahoma's opioid use.
The National Institute on Drug Abuse indicates the increase in opioid drug use is the result of an increase in the number of prescriptions written and dispensed by doctors, greater social acceptability of prescription drug use, and aggressive marketing programs by pharmaceutical companies.
The same study shows that efforts by law enforcement to curb this behavior through the use of a national database to track drug users has created an unintended consequence. As the availability of legal prescriptions has decreased, those addicted to opioid medications are looking for other sources. Heroin is often easier and cheaper to procure than medicine.
On March 27, 2017 the Oklahoma Health Department issued a syphilis outbreak warning. More than 75 people ranging in age from 14 to 47 have been diagnosed with the potentially deadly sexually transmitted disease. The most common risk factor was intravenous drug use.
According to Oklahoma City Community College's annual crime report, between 2013-2015, there were 12 reported cases of drug related crimes on campus.
Oklahoma Attorney General Mike Hunter announced on April 26, that he would lead the formation of a commission to combat the state's opioid crisis.
"From the information and statistics I've seen, we haven't even started to see the worst of it yet.", Hunter said during a press conference.
Hunter said that in the last three years, Oklahoma has seen 2,684 opioid related deaths. He stressed that this number may not be an accurate reflection because not all deaths require an autopsy or toxicology screening. Opioid induced death may resemble a heart attack.
Jane, whose name has been changed for this article due to a pending legal matter, described how opioid addiction damaged her family.
"My aunt used to be a well respected teacher before her addiction got really bad. She spun down into this rabbit hole where she thought everyone was out to get her. It got really ugly."
As a teenager, Jane watched her cousins suffer physical and mental abuse at the hands of her aunt. Her aunt's addiction, coupled with a borderline personality disorder and paranoia, made it impossible to communicate with her any longer.
Jane's aunt wasn't always like this. It started with a knee injury and legally prescribed medication. Soon she began stealing morphine from her own mother.
"My grandmother couldn't sleep or walk because she was in so much pain," she said.
When Jane's family learned about the stolen medication, they contacted Adult Protective Services to help. The organization stepped in on their behalf and removed Jane's grandmother from the situation.
"It infuriated my aunt that we did this," she said. "To this day she still doesn't talk to us."
Today, Jane works as a health professional. She deals with patients suffering from physical disabilities and injuries. As a result of her personal and professional experiences, she is a proponent of medical marijuana in the treatment of chronic pain.
A study from the Journal of the American Medical Association (JAMA) finds that for certain patient suffering from chronic pain, some types of medical marijuana effectively reduces the person's need for opioid painkillers. A second study from JAMA finds that across 13 states that have allowed for the use of doctor prescribed medical marijuana, the number of opioid related deaths saw a substantial 24.8 percent decline.
On April 17, Governor Mary Fallin signed a bill that reclassifies the definition of marijuana to exclude CBD. CBD is a component extracted from marijuana that has shown to be effective in the treatment of seizures, anxiety, tumors and pain. One stipulation to this new bill is that the CBD substance must be approved by the Federal Drug Administration.
To date, no such substance has been approved by the federal government.
Former state Representative Joe Dorman is also an advocate for medical marijuana reform because of what he has seen in medical studies and from speaking to constituents. He believes that the majority of citizens are ready to pass a bill regulating the use of medical marijuana. However, Dorman also says that there are still those who oppose marijuana reform.
"Law enforcement is worried about how they can police it. The pharmaceutical industry is worried about the loss of revenue.That's when you have to look at the science to see if helps. The science is becoming more developed everyday for why we should look at its use under the care of a doctor," he said.
Public Information Officer for the Oklahoma City police Dept. Paco Balderrama disagrees. He says that when it comes to the use of marijuana in treating chronic pain, "The jury is still out. Yes there are a lot of studies that show some medicinal advantages to using marijuana oil extracts, but at the same time you also have some statistics that show the numbers of violent crimes committed by people who are under the influence of marijuana."
Balderrama believes that the public is misinformed on the dangers of opioids and the progression of addiction. He stresses the importance of comprehensive education in fighting the issue.
As a former instructor in the D.A.R.E program, a national drug awareness initiative aimed at K-12 students, he feels the program has become dated and is ill equipped to educate students on the dangers of opioid addiction. No replacement program is currently in place but Balderrama say it is in the early stages of development.
Drug and alcohol counselor Terry Simpson agreed.
"From where I'm sitting, it's really hard for me to trust what they are calling research. Marijuana has got some medical benefits but there are other medications out there that do the same thing. They have really only just begun testing marijuana for its benefits."
Simpson says that addiction professionals will only begin considering marijuana as a pain management option when there is consensus in the medical community about its indications.
"Until then we view marijuana as a really rotten thing," he says.
Simpson feels that the best course of treatment for those suffering from addiction is through residential treatment programs like the one he currently works for at St Anthony's Hospital.

Today, Rob Kenyon is clean with a wife and baby on the way. He looks forward to being a dad for the first time and his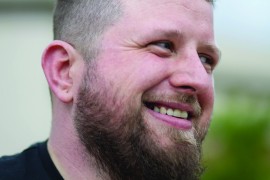 new responsibilities. He is serious about his sobriety because he knows that as a dad, he is not the only one affected by it.
Jane has finally begun to find some normality in her life. Recently married, she is working to build a strong family for her daughter.
For others the effects of opioids and finding affordable treatment are still a struggle.
If you or a loved one is suffering from drug or alcohol addiction you can contact Single Point of Entry at St. Anthony's Hospital at 405-272-6216 or 405-713-5980. Oklahoma City Community College also offers two licensed counselors for students and an online list of community drug and alcohol treatment programs.