Festival fundraiser to include fine food, music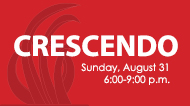 A new event will make its debut this year at Arts Festival Oklahoma.
Crescendo — a fund-raising event put together by the OCCC Foundation — will take place from 6 to 9 p.m. Sunday, Aug. 31, in the Sarkey's Foundation Atrium located in the VPAC Theater, said Marketing and Public Relations Assistant Director Deirdre Steiner.
Tickets are $45 and include an evening of art, music, fine cuisine and a selection of beer and wine, according to www.occc.edu/afo/crescendo.
Steiner said the event was created with the mission to help AFO grow. She said the event will help bring in money for AFO, which is much needed.
"The goal is to raise money," she said. "The Arts Festival … has to survive off of fundraising [and] earned media. It's not something that we really can do without people donating. This is just another way of finding funding sources to help keep it going.
"This festival has been going on almost as long as the college has been around and it gets bigger every year, and so it takes more logistics and more money to get it going."
Steiner said choosing an event name was easy.
"We decided on the name Crescendo (because it) kind of ties into the sculpture that's outside (of the theater) and also just the musical act of increasing in volume and growing, so we kind of liked that tie in," she said.
This is the first year for the event, Steiner said, and those involved are anticipating it will be a popular event. She said not only can people feel good about supporting their community, but also they can be indoors out of the heat and enjoy themselves.
Steiner said the event will be catered by Deep Fork Wood Grill and Seafood, Mickey Mantle's Steakhouse, Rococo Restaurant and Fine Wine, Two Olives Café, Tommy's Italian American Grill, The Culinary Institute of Platt College, and Joullian of Carmel Valley. In addition, beer and wine will be provided by Earlywine Cellar & Spirits, and Beer Distributors of Oklahoma.
There also will be musical entertainment.
"Patrons, guests, visitors can kind of come in, have some food, have some drink, cool down, listen to some music, mingle, mix … ," she said.
Food and drinks are not the only perks. Those who attend the event will have a special section reserved at the Oklahoma City Philharmonic performance and fireworks show scheduled for 8 p.m. Sunday, Aug, 31.
"It's hard to get a good seat at the Philharmonic performance," Steiner said. "They actually have an area sectioned off, so those people who have gone to Crescendo can walk in there and have a seat."
Parking costs are included in the cost of the ticket if they are purchased in advance. Steiner said this is a great advantage people should consider.
"I would highly recommend … purchasing a ticket in advance because your parking will be included.
"So if you pay to park, get there, and then decide to go to Crescendo, you kind of don't get the benefit of that," she said.
In addition, ticket holders will get Friends-of-the-Festival membership.
Tickets can be purchased online at www.occc.edu/afo or at the door on the day of the event.
For more information, contact Marketing and Public Relations at 405-682-7590 or visit www.occc.edu/afo.
Related Articles: