Fast-Track classes offered to OCCC students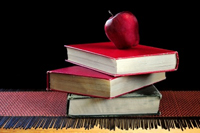 Image courtesy of FreeDigitalPhotos.net
Many classes are offered at OCCC but most students do not know there are classes offered separate from traditional 16-week classes.
While students may have heard about Fast-Track class in passing, they may not be aware what it actually is.
Offered in three sessions per fall and spring semester, Fast-Track classes are four-to five-week classes in which a student attends once a week, generally on Saturdays, for the entire day.
Students can earn up to nine credit hours per 16-week semester from Fast-Track classes alone.
Director of Recruitment and Admissions Jon Horinek said Fast-Track classes can be beneficial to students trying to fit college into their schedules.
"If you work during the week or if the mix of online and evening classes isn't working for you, or you have a job, Fast-Track can be one way to take care of that," Horinek said.
"If students are working toward one of our competitive health care programs or trying to pick up a class as a prerequisite for another institution, Fast-Track can sometimes be the easiest way to get that credit knocked out as quickly as possible."
Psychology major Lorraine Casas said taking a Fast-Track class is something she would consider.
"I think it would be a pretty good idea for somebody who has work and children and wants to maintain somewhat of a social life," Casas said.
"I am definitely interested in trying it."
While Fast-Track classes are not necessarily more difficult than traditional classes, they are not recommended for first-time students because they are not yet used to the college environment, Horinek said.
"The only difference between [faster] classes is you're learning the same amount of material, just in a more compressed period of time," Horinek said.
"It really depends on your particular learning style as a student, what you think works best for you, and what's going to fit into your schedule."
Dayshawn Burns, Welcome Center attendant and psychology graduate who took Interpersonal Communications as a Fast-Track class with Professor Julie Corff, said she loved it and did not find the class to be any more difficult than a normal class.
"You have all the time there in class to complete assignments and study," Burns said.
"The next Saturday will come up really quick so just make sure you stay on top of [your work]."
For more information on Fast-Track or other classes offered at OCCC, call Recruitment and Admissions at 405-682-1611, ext. 7580, or check out the course catalog at www.occc.edu/catalog/index.html.
To contact Erin Peden, email staffwriter1@occc.edu.