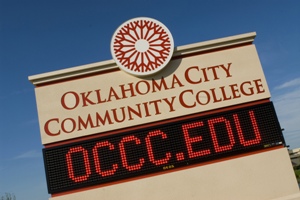 Enrollment numbers and credit hours for this semester are about the same as last fall, said Institutional Effectiveness Director Janet Perry.
For fall 2014, OCCC is relatively flat with a 12,477 headcount compared to Fall 2013's 12,512 headcount, which is a drop of less than 1 percent, according to a report by James Atkinson, Performance Meas-urement and Reporting director.
Some students left before they got started.
"There was 5.2 percent of the students who dropped in the first two weeks. Those are students who actually came to the college, enrolled in the class and then they dropped," Perry said.
In terms of ethnicity, the report shows OCCC is 53 percent Caucasian, about 6,625 students; 13.6 percent Hispanic, about 1,700 students; 10 percent Black, about 1,250 students; 6.5 percent Asian, about 812 students; 5.5 percent Multiracial, about 687 students; 4.3 percent Native American, about 537 students; and less than 1 percent Hawaiian, about 37 students.
About 7 percent, or 875 students, did not report on their ethnic background. Credit hours for fall 2014 also are flat with 112,388 credit hours compared to fall 2013's 112,137 credit hours, which is a 0.2 percent increase, according to the same report. Perry said since the changes are so insignificant, it's often considered even. "We do an enrollment analysis once a week, on Mondays.
So it was up and now it's slowly going back down. It's flat right now," she said, based on the Aug. 25 report. Perry said OCCC is different from some other colleges since there are so many entry points for courses. "At our college, we have the eight-week sessions, (one of which) will be coming up in October. We (also) have the fast-track and all these other entry points," she said. OCCC has more new students in the fall compared to the spring, Perry said.
Another point the college is seeing at this time is that ethnic diversity is continuing to increase, Perry said.
She said there has been a rise in the Hispanic population as well as an increase in multiracial students enrolled for OCCC courses.
"The minority population is continuing to increase as the Caucasian population is beginning to decline," she said.
"The future will be that the Hispanic population will continue to grow," she said. "I do not see that declining at all.
"We're looking right now at the OCCC Capitol Hill Center, (which is) in the core of the Hispanic population (in Oklahoma City). Right now we offer non-credit type courses and computer ESL, those types of things.
"I think in the future, that will have a greater impact on the college," she said.
"I see that continuing to grow, which will have an impact on our Hispanic population," There have been more female students than male students for some time, Perry said.
"I would say that [OCCC] has always had predominantly more female than male," she said.
Perry also said the average age is 25.8 for fall 2014, compared to fall 2013's 26.1.
"Sometimes a median age is more valuable to look at, because it gives the students a better impression of who's really here. If you're looking at this average age, you're thinking that 'everyone in here is going to be older than me' if you come directly out of high school. But then you walk into the doors and you say 'I see an awful lot of young people here,'" she said.
Perry said in spite the average age being 25.8, there is a rise in younger students enrolling at the college – a trend she sees continuing.
"We have younger students here now than what we did five years ago," she said.