Experience helpful in Theatrical Dance class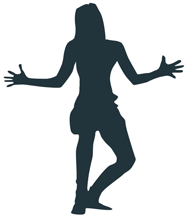 Fitness class Instructor Elizabeth Hobi said she knows this  is a busy time for many students, but hopes any dancers looking to continue their dancing careers while in college will make their way to her theatrical dance class.
"This is the time of year when everyone is so busy they can't ever come, and the class has gotten very small," she said. "We've lost people to illness, or who had to get a job. That's our challenge being a commuter school."
Theatrical Dance is a distinct class which touches on aspects of multiple dance types used in professional theatrical dancing, Hobi said. She said the class's difficulty is higher than beginner and even minimal experience can be helpful.
"Theatrical dance is grounded in ballet and contemporary dance techniques, and it does have conditioning," she said.
"We still let anyone in, but we're to the point where we're saying that previous experience in ballet, jazz and even modern dance is suggested."
Diversified Studies major Francesca Knight said she found out about the class after her grandmother pointed out a flyer on campus.
"I just e-mailed Liz and said, 'Hey, I want to go to this, because I've been trying to get back into dance, but I haven't found anywhere that worked with my work schedule," Knight said.
"I asked if I was going to be awkward and bad compared to everyone else, and she said, 'No. Just come check it out. We're all at different levels of dance.'
"I came that one night and I've been coming ever since."
Knight hadn't danced in several years and was quick to jump on the opportunity to rekindle her dancing practice.
"I was in pom in high school … and I was really out of practice," she said, "but once I got back in, I picked it all up again really quick. I've been able to get back into my passion. I told myself, 'You love to dance, and this is something you're really going to enjoy.' And I do."
The class meets from 6:30 to 8 p.m.  Monday and Wednesday evenings, and costs $15 for every five classes.
For more information, contact Hobi at elizabeth.hobi@gmail.com, or Health and Fitness Specialist Carole Valentine at carole.m.valentine@occc.edu or 405-682-1611, ext. 7662.
To contact Clayton Mitchell, email sportswriter@occc.edu