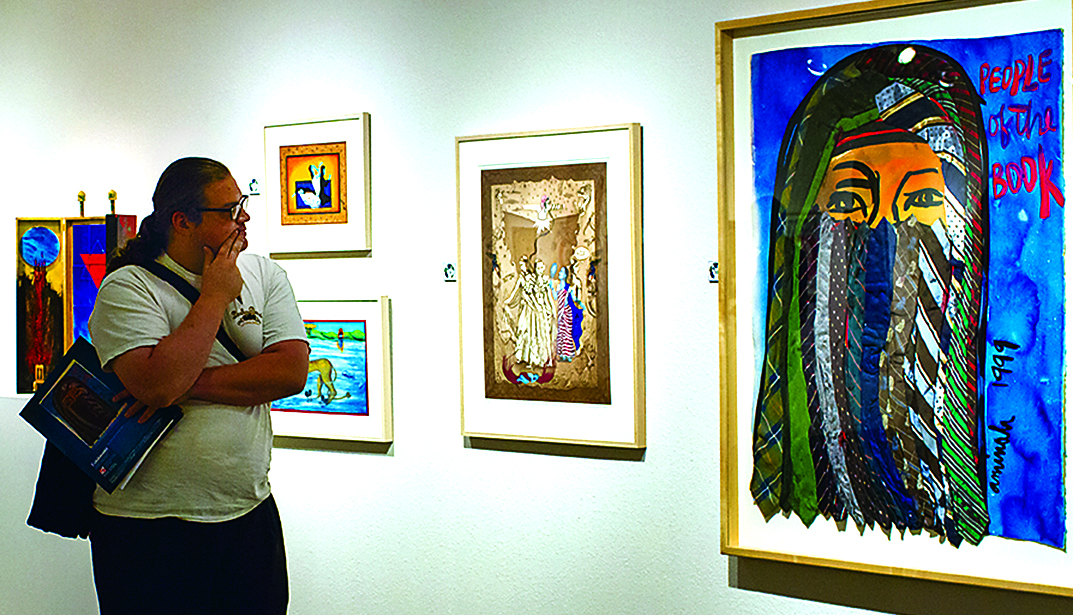 An exhibit in OCCC's Art Gallery is intended to help spread peace around the world and stop violence, said Lemuel Bardeguez, OCCC's cultural programs director.
"Women Call for Peace: Global Vistas," is open to the public and can be viewed from 11 a.m. to 7 p.m. Monday through Friday, through Aug. 29.
It is located in the Gallery at the OCCC Visual and Performing Arts Center, Room 124, Bardeguez said.
"Our mission [as a cultural program] is to provide cultural enrichment to the college at large and to the community," he said.
"The artists in this exhibit are activists, pacifists, who use art on the topic of violence. They put art together, bring it to the public and make it relevant to the topic."
The exhibit is made up of works by 11 female artists from different races and cultures — black, white, Asian, Christian, Muslim and Jewish — speaking against violent aggression, Bardeguez said.
Thirty-three works are on display featuring paintings, sculptures, quilts and prints.
Upon entering the Gallery, a pamphlet is available with information about the project and the people involved.
Among the artists are: Emma Amos, Siona Benjamin, Chakaia Booker, Judy Chicago, Linda Freeman, Irene Hardwicke Olivieri, Leila Kubba, Faith Ringgold, Aminah Robinson, Flo Oy Wong and Helen Zughaib —all of whom came together in this exhibit to serve as advocates for peace.
Cultural Programs assistant Scott Tigert said the artists are well known in the national art community.
Tigert said art is important because it is a direct expression by the person from their culture.
Bardeguez said art also is an important element to students' lives.
"Cultural activities contribute to the education of a student," he said.
"On the community side, for geographical reasons, some people are at a disadvantage because they are not able to embrace other cultures. This exhibit allows for that experience."
Tigert said he and Bardeguez hope people enjoy the projects Cultural Programs hosts and are able to learn something from them.
"Women Call for Peace: Global Vistas" was prepared and is toured by ExhibitsUSA, a national program of Mid-America Arts Alliance, and is entirely subsidized.
The exhibit is curated by Lisa E. Farrington, Ph.D., Professor and Founding Chair of the Department of Art and Music at John Jay College of Criminal Justice, City University of New York.