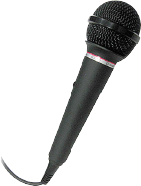 Writers, poets and singers will bring their talents to the microphone when Student Life and the student literary magazine The Absolute sponsor the third annual open mic event.
Participants and spectators are invited to attend from 12:30 to 1:30 p.m. Thursday, Oct. 29, in CU3.
Student Lerhu Brown has participated in the past and said she is excited to participate again this year.
Brown said all the stories she has read are stories that impacted her life and made her stronger.
She noted that she did not have the perfect family while growing up. She lacked role models that shecould look up to and grow as a strong woman.
Although her life was not the best, she said, she is still trying today to accomplish everything that she would like to do for her future.
She said one person who influenced her to share her life struggles was English Professor Marybeth McCauley.
"Ms. McCauley has been a great teacher," Brown said. "She is the one who inspired me to like and read poetry."
Brown will be reciting a poem called "Trapped."
She said she chose this poem because it reminded her of the time that she did not have a strong bond with her mother and felt completely alone.
Her poems and stories remind her of the dark past that haunted her as a child, Brown said. It's a memory that will never go away or leave her in peace.
Writing poems and reciting them are the only things that put her at ease, she said.
"I am very excited to perform on the 29th and I can't wait to see you all there," Brown said.
McCauley said she hopes many authors will join The Absolute's open mic event. Among others, she expects singer Andria Wallen, who has performed original songs on two previous occasions.
Wallen is a former OCCC student.
For more information, contact McCauley at mmccauley@occc.edu.