Evening transportation offered by EMBARK Link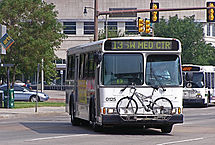 Students who would like to take evening classes but have no reliable transportation are in luck as EMBARK Link Service is now making several scheduled evening stops at the OCCC campus, said Kendra Fringer, Student Life coordinator.
"We know that our evening students, in the past, didn't have transportation or didn't have the ability for transportation, because there weren't routes here for evening," Fringer said.
"This now allows our night students to have another option to get to campus.
"It just opens up more doors and options for our students to [be part of] activities and classes here at night."
Unlike the buses that stop at the college throughout the day, EMBARK Link Service uses vans, contracted  through the Airport Express company.
The vans will make scheduled stops at OCCC at 7:30 p.m., 8:30 p.m., 9:30 p.m., 10:30 p.m., and 11:30 p.m. Monday through Saturday, Fringer said.
EMBARK Link stops also are scheduled each hour on Sundays starting at 7:30 a.m. with the last van running at 6:30 p.m.
The Link service then connects to the fixed 011 route, which goes by the way of South Robinson, High, SE and SW 29th Street, SW 15th, Meridian and Reno; and to the fixed 23N route, which goes to stops at Broadway, NE 13th, North Kelley, NW 23rd and North Rockwell. The fixed routes run hourly from 7 p.m. until midnight Monday through Saturday.
EMBARK Customer Relations and IT Manager Michael Scroggins said students can pay the regular bus fare of $1.75 per trip when the Link van stops at OCCC for transportation to one of fixed routes.
Students also can make reservations to be picked up by the Link service for $3.50.
However, Scroggins said, the company only accepts payment with cash or Value Cards, unlike the scheduled stops, which accept bus passes.
"The Link gives you a little more flexibility so that way if you're a little too far for walking distance to a stop, you could call and make a reservation," he said.
"It does cost a little more, but it has been a worthwhile venture for several people.
"If they're going to make a reservation though, I do recommend that they don't call just when you need it. Call in advance, because they could be booked already. The schedule only allows for so many reservations in order to keep that schedule for the designated stops … .
"I would probably say you need to make sure you call at least 24 hours in advance, just to be safe."
Scroggins said students can find tools at the EMBARK website to make their public transportation experience easier, such as a trip planner, schedules and maps of the routes.
He also encourages students to download the app called EMBARK Connect, which can help students plan trips and gives real-time bus estimations.
Bus passes can be purchased at the OCCC Bookstore at a significant discount — $35 instead of the normal $50. Day passes also can be purchased for $4 each.
For more information about EMBARK Link, visit http://embarkok.com.
For more information, contact Student Life at 405-682-7523 or visit http://embarkok.com/assets/files/schedules/LINK_2015.pdf.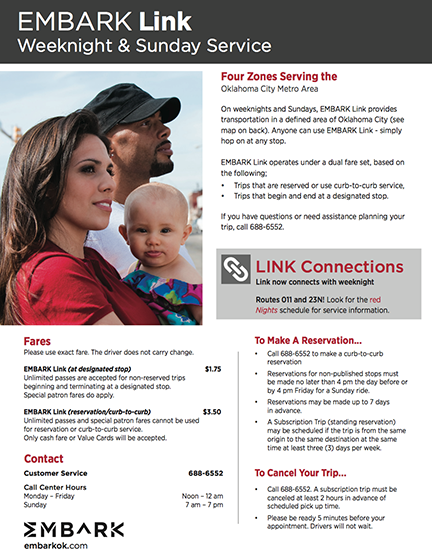 To contact Lauren Daniel, email onlineeditor@occc.edu