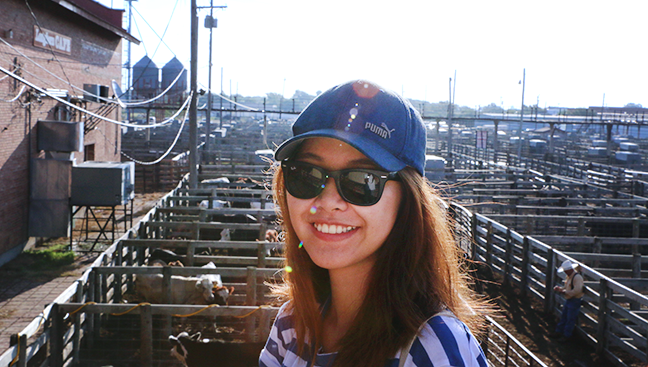 Oklahoma's cowboy culture was at the center of a field trip for international students on Sept. 22, led by Professor Abra Figueroa. She is teaching the Academic Bridge Programs for students learning English as a Second Language.
The group of about 20 students went to the Oklahoma National Stockyards and the Cowboy and Western Heritage Museum, both in Oklahoma City.
The historic stockyards are a very large livestock market, founded in 1910.
It is located in 2501 Exchange Ave. in southwest Oklahoma City.
The students could see some cowboys who were busy handling cattle.
When the students got there, the first sight they saw was the horsemen and cattlemen feeding the cows.
They were wearing high boots, and black denim clothes.
Next the students watched ranchers buying and selling cattle at auction, although most students said they did not understand what the ranchers were saying.
Even though the students had never seen this kind of auction before, they still found it interesting.
"This is so fun," said Lee P. Dung, from Vietnam, a student studying modern language. She saw different kinds of cows at the stockyards. Those cattle are stronger than she had seen before, but still she thought they were quiet and meek.
"This is the place that local and original Oklahoma looks like," she said. "Everything here belongs to Oklahoma culture."
Abric J. Dadeq, from Iran, was more concerned about the price of the cattle. He said he was familiar with cattle in his home country.
"The price of cows is not cheap," he said. "I like it here. This is a cool place."
The second destination was Oklahoma City's world class museum of Western art and artifacts.
A tour guide not only took the group around the museum, but also gave detailed commentary.
The museum features a large collection of paintings and sculpture. The painting "Learnin' the Ropes" is a masterpiece of Jason Rich, showing cowboys riding horses. The scene was similar to the one the students had seen earlier in the day at the stockyards.
Part of the tour included a typical Old West town of the 19th century. The town is like an antique, not like a modern city.
It showed how people lived before electricity and advanced equipment. The town included some small houses, stores and an old bank.
Lamia Moss, from Azerbaijan, who is studying music, said the trip was a great experience.
"It is not just interesting here, but most importantly we learned something here," she said. "We saw a lot of historical arts and architecture here.
"It's all about cowboys and Western American history."
The professor will take students on a future field trip to give them more knowledge of Oklahoma culture.
Other students on the trip were: Amir Asadpour, Iran; Aya Charif, Syria; Vanessa J. Essis, Venezuela; Magna Y. Joao, Angola; Omaira V. Jones, Colombia; Ines M. Kindelan, Cuba; Corneille C. Mbougou Koumba, Gabón; Lamia Moss, Azerbaijan; Lidia Rivera, Mexico; Sasithorn Ruangpichit, Thailand; Mahmood F. Sadeq, Iraq; Sahamin O. Zando, Ivory Coast.
Several more students were from Vietnam. There were Thao T. Ho, Diem T. Nguyen, Dung T. Nguyen, Linh T. Nguyen, Tram V. Quynh, Linh P. Tran, Phung N. Trinh and Bao H. Vo.