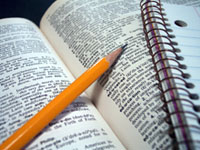 As the fall semester continues, planning for the spring semester is on students' minds. Current students were able to begin enrolling for the spring semester Oct. 10. New students will be able to enroll in classes beginning Oct. 17.
Mary Ann Bodine, Academic Advising assistant director, said students should begin enrolling as soon as possible to ensure they get necessary classes.
The Academic Advising office stays open for extended hours in January for any late comers and enrolling can be done in either the office or online up until the first week of classes which start Jan. 17.
Students may still be able to enroll into classes after the first week of the semester, but faculty approval must be met first, "We strongly discourage students to wait that long," Bodine said.
Berenece Mendz, graphic communications major, was unaware of the early enrollment dates.
"This is my first semester at OCCC," Mendz said. "I'm just trying to figure out the rest of the fall semester before enrolling for the spring."
Registrar Alan Stringfellow gave insight on the registration and enrollment process.
"I would strongly suggest that a student attempt to use the online option to enroll," Stringfellow said.
Stringfellow said the online option allows students to enroll late into the night if they need to.
"As you know, many students aren't getting home until late at night anyway because of going to school and work, so it gives them the opportunity to get out there and try and enroll."
Stringfellow said close to 60 percent of students are using the online option of enrollment.
"The trend over the past few semesters is that students are [enrolling] early which means sections are filling up quite quickly," Stringfellow said.
Developmental Math, English Composition and the nursing program classes tend to be the first to fill up, he said.
Stringfellow said the college's new website design won't affect how MineOnline is accessed.
To contact Sarah Hussain,
email staffwriter3@occc.edu