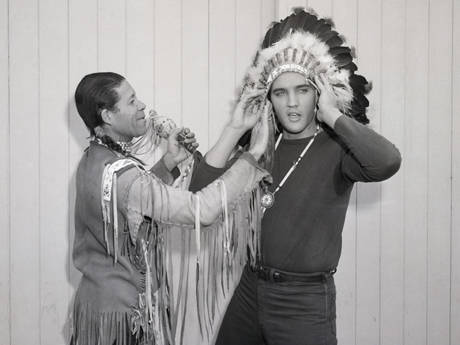 Elvis Presley not only portrayed Native Americans on film but was himself of Cherokee Indian ancestry, said English Professor Michael Snyder during "Elvis as Indian," a presentation held on campus Dec. 9.
Snyder presented the lecture, which was attended by a group of about 50 people.
He said Presley was proud of his heritage and showed this through his performance as cross blood Native Americans in three separate films: "G.I. Blues," "Flaming Star" and "Stay Away Joe."
"Some of these films have such great actors in them, such as Barbara Eden," Snyder said. "But 'King Creole' is probably his best film, one I would recommend on its own merit."
He pointed out that Presley was a great role model for Native Americans by playing admirable Indian roles in his films.
Presley's appearance as an Indian in these movies showed him as a figure of honor not only in the eyes of Native Americans but to others as well, he said.
In 1960, after he played the son of an Indian woman and a white settler in his film "Flaming Star," Presley was inducted into the Los Angeles Indian Tribal Council and honored by Chief Wah-Nee-Ota, a Creek Indian actor and musician from Muskogee, Snyder said.