Engineering club helps students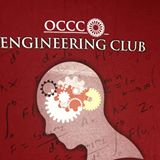 The Engineering Club is a professional club that helps build networks in the engineering community as well as helping students transfer to other engineering programs at other universities, said club President Anthony Norton.
"Our number-one purpose is to build networks within the engineering community back to the campus [to get] outside companies interested in the OCCC engineering program, and to get our members exposed to what goes on locally in an engineering aspect."
Club members and mechanical engineer majors Matt Feisal and Barry Bosnyak said the club has been beneficial to them.
"It has helped me in terms of building networks to be able to use outside of here once I move on to [the University of Oklahoma] … ," Feisal said. "Also to help for getting a job once I graduate. It's giving me contacts in the field."
Bosnyak said relationships built with other students through the club also help drive home the reason for seeking an engineering degree.
" … It helps solidify in your head 'OK this is a lot of work, but yeah, this is what I want to do'."
Norton, also a mechanical engineer major, said the club will be doing a couple of demonstrations this semester to show how the engineering process works, along with bringing in guest speakers and offering a tour of the engineering facilities at OU.
"We have a club field trip set up to go tour the OU engineering facilities as well as speak with some of their faculty and advisers in the engineering program," he said.
Norton said the trip will take place from 1:30 to 5 p.m. Friday, March 27. Transportation will leave the OCCC campus at noon, he said.
Norton said the club also helps members of the engineering department with scholarship and transfer processes.
"We are in contact right now with [Oklahoma State University] to send somebody over to talk to us about the transfer process, scholarship opportunities that may be available, and just how to basically smooth out the whole thing so you have to go through as few hoops as possible to go to the college that you want to," he said.
Feisal said, each semester, a transfer representative from OU and industry professionals speak to the club.
"Even former students [come] to talk about what they did to get through school and what they're doing now for their job."
The Engineering Club's next meeting is at 12:30 p.m. Thursday, March 12, in the Engineering Lab located in MB 1T1.
Questions and comments also can be posted to the club's Facebook page at www.facebook.com/occcengineeringclub.
For more information, contact Norton at anthony.a.norton@my.occc.edu or engineeringclub@my.occc.edu.
To contact Katie Axtell, email communitywriter@occc.edu