EMS conference registration open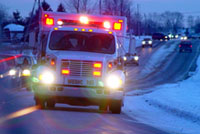 The Student Emergency Medical Sciences Association, a college-sanctioned organization run by the students of the EMS Program, is hosting the 2nd annual EMS ICONference.
Emergency Medical Sciences Program Director Leaugeay Barnes said the conference will take place from 8 a.m. to 5 p.m. Feb. 6 through 8 at the Health Professions Center.
SEMSA, in partnership with the Eastern Oklahoma County Technology Center in Choctaw, and the Great Plains Technology Center in Lawton, has enlisted national-level presenters for the conference, Barnes said.
She said the main speakers will be Bob Page, an internationally known speaker, instructor, author and paramedic, and Steve Berry, a former teacher and interpreter for the hearing impaired.
"Other presenters include The Oklahoma State Department of Health EMS Division who will be conducting an EMS Instructor Update, the Oklahoma Poison Control Center and Emergency Medical Services for Children," Barnes said in an email.
She said the conference is primarily for, but not limited to, health profession students.
"Last time, we only had one speaker a day for two days and it was very successful," Barnes said.
So successful, she said, that some of the previous sponsors have been calling to ensure they could be a part of it again.
"It's even bigger this year," Barnes said.
Clinical Affiliation Compliance Administrator Shelly Tevis, said students who can attend, should.
"It's a fantastic opportunity for the students to develop critical thinking, organizational, and leadership skills, and bring it all together to bridge the different fields of study in health care.
"In the end, they all have the same goal," Tevis said.
Barnes agrees.
"We're teaching the students to give back to their profession, and it's pretty exciting," Barnes said.
"It's a good time."
The cost to attend is $100 for all three days if paid in advance.
Pre-registration is now available online at www.signmeup.com/79578. Pricing will increase at the door.
For more information, call 405-682-1611, ext. 7573 or email lbarnes@occc.edu.
To contact Nadia J. Enchassi, email onlinewriter@occc.edu.